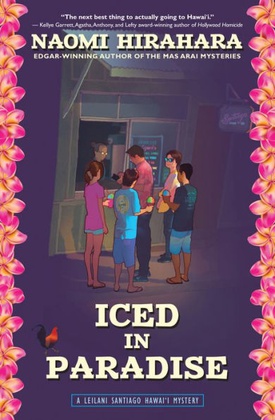 Naomi Hirahara, Japanese-American writer and Los Angeles local, is known for her thrilling (and award-winning) mystery novels featuring not only Asian American protagonists, but the culture and communities that have created them. Her next novel, Iced in Paradise, soon-to-be-released September 3 of this year, is no exception. This latest novel introduces readers to Kauai's very own Leilani Santiago, who recently left behind a relationship and a whole other life in Seattle to return to her family's business in Waimea Junction.
Leilani is just getting used to taking care of her mom and younger sisters, keeping the Santiago shave ice shack afloat, managing her relationship with her dad, and salvaging her life back in Seattle when she finds a dead body on the floor of the family business. The victim? A young surf prodigy, and her dad's successor, with ties to the island and its people that only Leilani can quite unravel. Though the Croc-sporting, coffee-loving, perpetually-cranky Leilani steals the show, it is her Filipino-Japanese-Caucasian family and the multitude of local characters that populate the pages of Iced in Paradise that truly make you feel as if you're on the island, solving mysteries and eating lotta grinds alongside Leilani.
So, grab a shave (not "shaved") ice and prepare to be transported to Hawai'i as you read Iced in Paradise: A Leilani Santiago Hawai'i Mystery.
With the upcoming release of the novel, I was fortunate enough to interview Naomi about her latest mystery, as well as the creative process behind it.
* * * * *
I loved the fact that the story was set in Hawai'i; how did decide that this would be the location of your next novel? What were the challenges that you faced in choosing Kauai?
In the mystery genre there's a subgenre called the cozy or traditional mystery. This is more in line with Agatha Christie and her puzzle/whodunit approach. There's less blood and gore and oftentimes, the setting is idyllic, someplace you'd like to escape to. While I love the quaint villages and seascape locations with lighthouses, truth be told, I as well as other Asian Americans would be viewed as outsiders in that setting. I knew that as a writer and a person, I wanted to escape to Hawai'i, where I might be welcomed as a possible insider. And Kauai, the Garden Isle, is our favorite island. Green with less tourists. I could find this struggling multi-ethnic family, the Santiagos, there.
Since Leilani's story takes place in Kauai, there's quite a bit of pidgin spoken throughout the novel, an aspect of the writing which I think was handled quite deftly. Did you ever find it challenging to incorporate pidgin into the narrative? Did you have concerns about connecting with some readers, but "losing" other readers because of the use of pidgin and/or casual references to local Hawaiian/Asian American culture?
Code switching and dialect are totally in my wheelhouse as I was raised in a bilingual household. My mother is an immigrant from Japan and my father was a Kibei Nisei. As a result, I always had to be a step ahead and decipher what they were saying in English (many times Japanese would be mixed in) and then communicate the same things to others in more standard English. Of course, Hawaiian pidgin is different than what I grew up with, but the pattern recognition is a skill that I think I have.
I was so scared to attempt to do this--when the book comes out, we'll see what readers in Hawai'i will say. When I announced that I was going to attempt a Hawai'i book, one of my Mas Arai readers immediately reached out to me. Her name is Cynthia Hughes and she's a Japanese American who was raised in Hawai'i. She grew up speaking pidgin and is of a generation that was corrected in schools to speak standard English. Later she found that her knowledge of pidgin was instrumental in communicating with people at work and that her bilingualism was indeed an asset, not a liability. Anyway, she wanted to make sure that I got it right and suggested that I read a number of Hawai'i-based writers like Lois-Ann Yamanaka. I've been a fan of Yamanaka's work every since her first collection of poetry came out. Cynthia volunteered to check over my pidgin and has been a wonder in making sure what comes out of my characters' mouths sound legit. Of course, every island has slight variations, so I'm sure some Kauai readers will school me in what I need to fix in future books.
In terms of losing readers, I've experienced that with my Mas Arai books. But for every person who has been turned off, there have been so many more that embrace the books because they are familiar with the characters on the page. They sound like people they know. I've learned that you can't please everyone, and if you try, you'll end up with a watered down manuscript that no one will be excited about.
Speaking of local culture, I appreciated the representation of a mixed-race, mixed-ethnicity, mixed-culture protagonist in Leilani Santiago. Another of your protagonists, Ellie Rush, is also of mixed-Japanese ancestry. What is the importance of the idea of a "mix" within the novel? The JA community? Leilani's community in Kauai?
Being of mixed ancestry is our present and future in the Japanese American community, right? Actually a lot of my early readers who helped shape Mas Arai were of mixed ancestry, but I never looked at them as not being part of the Japanese American community. Hawai'i especially is known for being a mix; that's seen in the language and the food. Actually that's another reason why I wanted to set a mystery in Hawai'i. Being mixed is part of the culture and there was no need to explain or feel othered in that regard.
Despite the genre similarities between noir and the mystery of Iced in Paradise, noir characters look – and act – quite a bit different from Leilani and the rest of the community in Kauai. How and why did you decide to deviate from these conventions? Are there other conventions (not just literary) that you were looking to break with this particular novel?
I've written a number of noir short stories, but I think I'm not as dark and fatalistic as that genre demands. I do like writing from an ordinary person's point of view. I didn't want to make Leilani a superhero or kickass motorcycle-riding savant like Lisbeth Salander in GIRL WITH A DRAGON TATTOO. I didn't want to make her a genius like Sherlock Holmes. She's a regular young woman who has panic attacks. She also adores her family, even while having issues with some of them. So we readers have to watch if she can rise to the occasion.
I noticed that you often cite Walter Mosley as one of your literary inspirations, and he often deals with the mystery genre and its different implications in the context of his African American racial identity. Do you find yourself applying a similar lens of consciousness to the novels that you write?
Most definitely. Water Mosley, Chester Himes, and Barbara Neely are all African American detective novelists that have infused their books with history, culture, and race. A lot of classics by Raymond Chandler and others sees people of color as dangerous or "the other." I definitely want to turn that around in my books.
Iced in Paradise touches on many difficult social topics not unique, but definitely of relevance in Hawaiian populations – topics of alcoholism, "small island mentality," discrimination, and land rights. Why did you include these particular issues?
I know that various addictions--alcoholism and substance abuse--have remained challenges in Hawai'i and the sovereignty of the Hawaiian islands has been an issue that I've heard discussed ever since I was in college and working at The Rafu Shimpo newspaper (and both of those experiences occurred many years ago). When you create characters, you cannot help but include societal issues. Their response to their issues sheds light on their character.
What were the aspects of Hawaiian/Asian American culture that were most fun to write about? The novel made me very hungry, if that gives any indication of my favorite parts to read.
Oh, for sure the food. I enjoyed writing what the Santiago family ate around their kitchen table. Intergenerational relationships interest me. I'm not sure quite why because for the most part my grandparents were either deceased or in Japan during my lifetime. Maybe I'm trying to create that experience for myself in my fiction.
Are you working on anything in the near future? Anything that you're excited about?
I'm currently hard at work on a standalone historic thriller set in Chicago in 1944. I'm super excited about it! This is more in the noir family so I have to access my darker side. The protagonist is a young Nisei woman, Aki Ito, who travels to Chicago from Manzanar. Something has happened to her older sister who arrived in Chicago a year before and it's up to Aki to find out what happened, not only to get justice for her sister but to prevent other women from being hurt.
* * * * *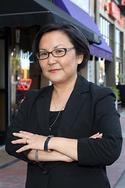 Noami Hirahara is the Edgar Award-winning author of the Mas Arai mystery novels, a series which follows the L.A.-based Japanese-American gardener - and sometimes detective - Mas Arai, in several thrilling installments such as Snakeskin Shamisen and Hiroshima Boy. Naomi previously served as a reporter and editor of the Japanese-American daily newspaper, The Rafu Shimpo, and remains active in the community in Little Tokyo through participation in organizations such as the Little Tokyo Historical Society. Readers can find more information about Naomi and her novel Iced in Paradise at her website, naomihirahara.com.
* * * * *
Author Discussion—Iced in Paradise by Naomi Hirahara
Japanese American National Museum
Saturday, September 7, 2019, 2 p.m.
Join authot Naomi Hirahara for a discussion about Iced in Paradise, her love of shave ice, and why she made the Garden Isle the location of her new novel. The event is free with museum admission, but RSVPs are recommended.
For more information, visit the museum's event page.