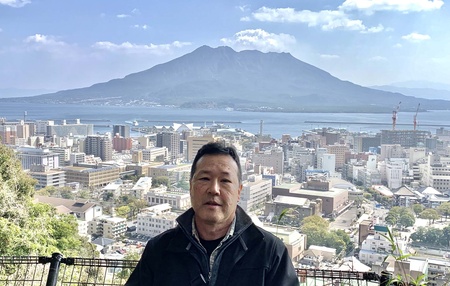 A "journey" can be described as a path or road one takes to reach a destination. Like a journey, life is a continuous process of learning and self-discovery that can lead to wisdom and insight.
This journey of my "Japaneseness" has led me to self-discovery as a Sansei, a third-generation descendant of Japanese immigrants to Hawai'i, now living in Japan.


Connecting with my Japanese Roots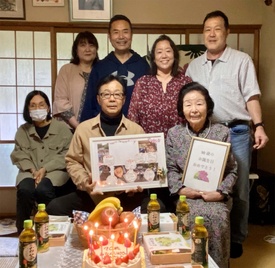 In the spring of 2022, I emigrated to Japan to live with my wife and her 90-year-old mother in a rural town in northern Kagoshima Prefecture. The move was significant for both of us. I had spent my entire life in the United States and never lived abroad. In addition, my knowledge of the Japanese language was limited.
My wife, born and raised in Miyazaki Prefecture, had lived in Hawai'i since 1995 and became an American citizen in 2006. However, after her father died in 2018, she knew she would eventually need to return to Japan to care for her mother, which she did in 2021.
But for me, the opportunity to retire in Japan was the envy of my family and friends. More importantly, I was emigrating to my ancestral homeland. It is an incredible opportunity to reconnect with my Japanese heritage and family roots.
After living in my small Japanese town for a year, I am surprised that the locals mistake me for a native Japanese or Nihonjin. I have many anecdotes of people surprised to learn that I was an American. Even my mother-in-law comments that the locals cannot tell me apart, the only clue being my limited Japanese language skills.
Overall, my emigration to Japan has been an exciting and unique experience. I have been pleasantly surprised at how well I have adapted to my new surroundings. One thing I did not anticipate, however, is that living in Japan would bring about a moment of self-discovery.


Rethinking My Japanese Identity
Living in Japan for the past year has caused me to rethink my identity as a Sansei. I have ancestral ties to Japan, but Japan is a foreign country. On the one hand, I may look like a Nihonjin, and locals cannot easily distinguish me as a foreigner at first glance. However, I recognize that I am not Nihonjin. So while I feel comfortable in Japan, I am still an outsider.
Being from Hawai'i has helped me feel accepted by Nihonjin, as Hawai'i holds a special place in their hearts. For instance, when I first met my wife's family, I was greeted with "aloha" and "mahalo." They learned these words from listening to KZOO Radio, a Japanese radio station in Hawai'i.


Japanese Americans vs. Nikkeijin vs. Sansei
In my small city, locals refer to me as Nikkeijin, a descendant of Japanese emigrants living outside Japan. It distinguishes me from Japanese American and gaikokujin, or non-Japanese foreign residents. Recently, my wife and I hired a local contractor, a close neighbor, to clear some bamboo from our property. My wife spoke to him in Japanese while she and I spoke English. The contractor looked puzzled and asked my wife why I was not speaking Japanese. When she explained that I was Nikkeijin and a Sansei from Hawai'i, he laughed and said, "I didn't know."
Since then, I have become accustomed to using these terms to describe myself as "Nikkei Sansei" instead of Japanese American. The term Japanese American can confuse some Japanese people. It may imply a mixed heritage, so I avoid using it to describe myself.


My Japaneseness
My experience with the contractor made me reflect on my identity and Japaneseness. I learned the concept of Japaneseness from Jane H. Yamashiro's 2017 book Redefining Japaneseness. According to Yamashiro, Japaneseness refers to the cultural identity and characteristics of being Japanese, encompassing the language, customs, traditions, beliefs, and values unique to Japan and its people.
As a Sansei, I have an emotional and psychological connection to Japan through my heritage. I feel connected to my ancestral homeland even though I was born and raised in the United States.
However, living in a small rural city, I often encounter people with no prior experience with an American living among them. For example, when I explain that I don't speak Japanese by saying, "Sumimasen, Nihongo ga hanasemasen," confusion ensues. Even after people realize I am Nikkeijin, they frequently ask about my family's origin in Japan and why I do not speak the language. Thus, my experience with the contractor made me more aware of how others perceive my identity as a Sansei and my connection to Japaneseness. Nonetheless, my emotional and psychological attachment to Japan remains strong. I will continue to navigate the complexities of my cultural identity with resilience and openness.


Growing up in Hawai'i
Growing up in Hawai'i during the 1960s and '70s, I was immersed in a rich cultural blend of Japanese, American, and Hawaiian influences. However, being the youngest among my siblings, I was likely the most heavily influenced by American customs and values.
As a student in the public school system, I learned to embrace Americanism from a young age. Every morning, we would stand at attention facing the American flag in our classroom. At the same time, patriotic bugle music played over the PA system. Reciting the Pledge of Allegiance was a daily ritual.
As a junior police officer in elementary school, I was taught the importance of respecting law enforcement and being a law-abiding citizen. While some classmates attended Japanese language school, my family attended Sunday school at Makiki Christian Church.
My parents were my primary window into my Japanese heritage, but they emphasized success in American society. They raised us to embody the ideals of "good Americans," a value system compatible with the ideals passed down from my father's immigrant parents. These values included hard work, sacrifice for the future, respect for authority, financial success, and social mobility.
English was the only language spoken at home, though Hawaiian Pidgin English reflected Hawai'i's diverse, multiethnic immigrant culture. Standard American English was only encountered in the classroom, making it feel like a second language. Despite attending school in Hawai'i, I had little interest in learning Japanese and saw no practical use.
My second window into Japanese culture and language was through judo training. I began practicing judo at a young age with my two older brothers at the Moili'ili Community Center, originally founded in 1912 as a Japanese language school.
In 1975, at age 16, I had the incredible opportunity to travel to Japan to train at the Kodokan Judo Institute in Tokyo and visit various dojos in southwestern Japan. It was my first contact with Japanese people and culture, and the experience made a lasting impression.
Although I was of Japanese descent, I felt like a foreigner among the native Japanese during my visit. As a naive teenager, I struggled to identify with Japanese culture and wondered if I was "Japanese enough." I had a deep emotional and psychological connection to my heritage, but I found most things about Japanese people and culture foreign. As a result, I began to identify more as a "local Japanese boy" from Hawai'i, a unique blend of three different cultures.


Local Japanese Boy
My identity as a person born and raised in Hawai'i with Japanese ancestry is essential to who I am. The Japanese influence in mainstream Hawai'i shaped my pride in being of Japanese descent. As a "local Japanese boy," I was fortunate to grow up in a multicultural environment with friends who were a mixed bag of ethnicities. Identifying as a Japanese American was challenging, though. I associated being American with being haole or Caucasian. My father's expectations of being a good American also contributed to an inferiority complex. He emphasized the importance of embodying the ideals of good Americans, which unintentionally meant (to me) to be more "haole" and less "local."
Despite these challenges, I overcame my inferiority complex through education. I worked hard and became the only one of my father's children to earn a graduate degree and become a college lecturer. This accomplishment made my father very proud; he lived to see it before passing away.
My identity as a Sansei growing up in Hawai'i shaped my Japaneseness. However, it was only one aspect of my multifaceted identity and place in American society.


A Nikkeijin in Japan
Living in Japan has led me to reflect on what it means to be Nikkeijin. It's allowed me to reconnect with my ancestral roots and experience firsthand the cultural differences and similarities between Japan and America. I now understand that my identity as a Nikkei Sansei is unique and distinct from a Nihonjin and a Japanese American.
To learn about my insights on researching the origins of my surname and my Okinawan heritage, please see Part II of my essay.