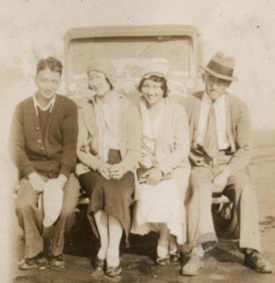 In a 1933 double wedding, Joe married Jean Nakata, and his sister Pauline married Jean's brother, John Nakata, siblings from the Nakata family on Bainbridge Island.
According to John and Pauline's son, Wayne, "Although the bridegrooms economized on the minister, they, without the brides' knowledge, still had to borrow $100 to cover their respective wedding, reception, and honeymoon costs. And the two couples had to share one car to go on their honeymoon!"
When Joe and Jean returned to the Kawamoto farm, they were greeted by a surprise party thrown by friends and neighbors.
By this time, the farm had a small dairy herd and four poultry houses, used primarily to produce eggs and some fryers. With Kaichi and Itsuno in their 60s, Joe had become a full-time farmer, so Jean became a full-time farmer's wife.
Jean cooked and canned, cleaned, looked after the garden, and did all the other things farmers' wives do. Her cooking made her very popular with haying crews in the area, who loved to work at the Kawamoto farm because of the delicious lunches they would get.
Meanwhile, after taking some time off to have their first son, Don, Pauline worked at her husband John's new grocery store on Bainbridge Island, the Eagle Harbor Market. By 1940, the couple had two more sons, Kenji and Wayne.
After graduating from high school, the youngest Kawamoto, Alice, worked for two or three years as a nanny and housemaid in Seattle. She then went to a dressmaking school to learn tailoring. In February 1941, she married Phil Okano, a dry cleaner. The couple began their married life in Shelton, living with Phil's family.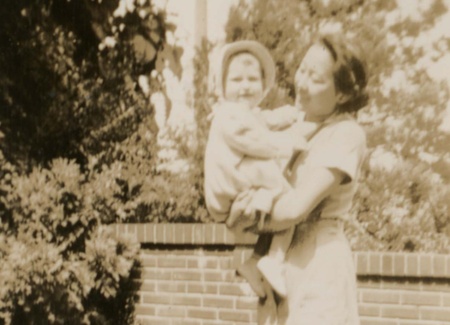 The War
One evening in early December 1941, Joe noticed truck after truck going by the farm, headed north. Tensions between Japan and the US had been growing over the years.
A friend said, "I betcha there's a war on."
He was right. The US had just entered World War II.
President Franklin Roosevelt signed Executive Order 9066 on February 19, 1942. The federal government then decided that Japanese Americans (JAs) on Bainbridge Island would be the first families to be incarcerated. This was probably because the U.S. Navy had placed a secret radio-communications listening post, "Station S," in Fort Ward, Bainbridge Island, in August 1939. Station S had ideal reception of Japanese radio transmissions in the Pacific (historylink.org).
On March 24, 1942, the military gave the Bainbridge JAs just six days to prepare before they would be removed from the community. Pauline's husband John felt he had no choice but to sell his grocery store. A Filipino friend, however, volunteered to take care of the Nakata farmhouse and the strawberry fields around it.
On March 30, 1942, Pauline and John, their three sons, and the rest of the Nakata family were part of the 246 Bainbridge Island JAs who boarded a ferry to Seattle. There, a train took them to Manzanar, in the Owens Valley, California, between the Sierra Nevada on the west and the Inyo mountains on the east. The boys ranged in age from two to seven.
Although the JAs were under military guard, one islander on the train later explained, "after we got to know (the soldiers), maybe the next day or so, they said to us, 'Why are you people going?'"
"They were from New York, these soldiers that took us down. Pretty soon they would talk to us, and they said, oh, it was so wrong to see us go."
An officer later said, "Having to move these people is one of the toughest things this outfit has ever been told to do."
In early June 1942, Alice and her husband, Phil, and all of Phil's family were sent from Shelton to Tule Lake, shortly after the northern California camp opened. (By then, the population at Manzanar was already approaching 10,000.) Before leaving, the Okano family closed down their dry cleaning/laundry shop. Their insurance agent, Herb Angle, agreed to look after the family's property and at some point, rented out their home. Jeanette and her husband, Eddie Otsuka, who had been managing hotels and apartment buildings in Seattle, also went to Tule Lake.
The Kawamotos on the farm were the last of the family to go to Tule Lake, arriving later in June 1942. Before Joe, Jean, Kaichi, and Itsuno left, the Poultry Club threw a party for them, the club members promising to welcome them back whenever the family was able to return home. A retired couple, Jack and Fern Dyke, offered to live at and take care of the farm. Profits, if any, would belong to the Dykes in return for their paying the insurance and property taxes.
Unfortunately, when the insurance on the farm expired, no insurance company would insure it. Joe believed it was because the farm was owned by a JA. Fortunately, Joe had belonged to the Uncas Grange Association in Discovery Bay prior to the war. Although he had stopped paying his dues, a friend suggested that he pay his back dues so that the Grange would insure the farm. Joe was skeptical, but it worked.
When it was time to go to camp, Mr. Dyke drove the family to Port Townsend, where, along with 64 other JAs from Jefferson and Clallam Counties, the Kawamotos caught a bus to Centralia. From Centralia, a train took them to Tule Lake.
Tule Lake is one of just 20 ancient lakes in the world that have existed continuously for more than a million years. The Tule Lake camp, built on a dried-out part of the lakebed, consisted primarily of row after row of barracks—there would eventually be more than 1,000 barracks—in the semi-desert. The Kawamotos were quite disappointed to learn that the four of them would be living in one small room furnished only with some army cots.
Joe would later explain his bitterness and disgust about the incarceration, undoubtedly shared by virtually all the Nisei: "Here I was, a citizen of the United States and more than glad to help in the war effort, and here they tell us, 'You gotta leave.' It's an awful feeling."
*This article was originally published in The North American Post on August 31, 2023.