This month, we have the pleasure of featuring two poems from the great Pam Ward in our continued homage to the late Amy Uyematsu. In the mid 1990's, Pam and Amy, along with Gloria Alvarez, Jiseh James, and Nancy Padron, organized Cantaluz ("sing light") to come together and read as a collective of women of color poets. They had a reunion performance in 2017 and of course the legacy of each poet lives on. Here, Pam lends her fierce voice through pieces in remembrance of our beloved Amy. Enjoy…
— traci kato-kiriyama
* * * * *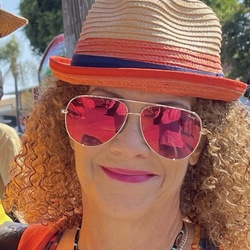 Writer/designer, Pam Ward just released her poetry book Between Good Men & No Man At All (World Stage Press). She's published two novels, Want Some Get Some and Bad Girls Burn Slow (Kensington). A UCLA graduate, recipient of a California Arts Council Fellow, a Pushcart Poetry Nominee, Pam has published in Chiron, Calyx, Voices of Leimert Park and the LA Times. She's currently working on a novel about her aunt's dalliance in the Black Dahlia Murder, an event that shocked the nation and happened in Pam's own neighborhood.
The Uyematsu Flowers at Descanso Gardens Know the Truth, haiku*
For Amy
Camelias lean from
white farmers who stroke their stems
"We know who you are."
* The Uyematsu family owned a thriving business named Star Nursery in Los Angeles. Forced into concentration camps with the other Japanese during WWII, their camelias were obtained by Descanso Gardens before they left, at a considerably cut-rate cost.
How girl-writer tribes are formed
Dedicated to Amy and our poetry troupe, Cantaluz
Maybe you're a girl
a girl from Pasadena or Watts
a girl with gumption
a girl who likes tossing rocks
with a gaze that could scorch LA raw.
Maybe you're from the East
or got bused to the West.
Maybe you're Cuban, or Black
a Japanese girl raised strong
one who scrawled "Yellow Power" on the wall.
Maybe you're the girl who listens
or one who tells you you're wrong.
A girl who starts something.
A girl who won't take it back.
Sassy chicas, mamasitas,
militant mama-sans
churning poetry drip by drip
bucket by bucket or drop by drop
the way grandma stirs bathwater rum.
Maybe you create a crew
A group of poetic sluts
girls who refuse
girls who can not be stopped
girls who frolic or graffiti their own names in stalls
growing poetry like weeds on a deadbeat lawn.
Painting poems the way some
paint their nails or chew them off
girls who take notes
clawing poems that shoot like guns
Troublemakers
Salt shakers
Renegade debutantes
A girl that some folks want to slug.
Maybe you know one.
Maybe your mom's one of us.
You'll know if she laughs too loud
cranks her music or starts to cuss
singing poems like hymns
singing until dawn bites the dust
a girl writer serenading Mars.
*These poems are copyrighted by Pam Ward (2023)