Illustrator Audra Furuichi stay most well known for her web comic nemu*nemu dat she launched in 2006 with her partner Scott Yoshinaga. Da ting wuz one immediate hit. If you dunno, dis quirky strip stay about da misadventures of Nemu and Anpan, two magical stuff animal kine canines and their human beings, Kana and Anise. Those characters wen spawn one whole line of popular merchandise, like books, shirts, stickers, and of course stuffed pups.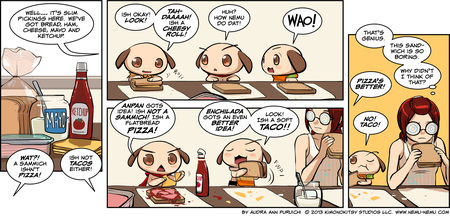 * * * * *
What school you went, what year you grad?
Saint Andrew's Priory. I grad in '96.


You identify as Local, Nikkei, Japanese American, or what?
When I was younger I used to think I was just Japanese American. But as I spent time in California and in Japan, I kind of realized that being Japanese American from Hawai'i is a very unique thing. The only way I can express who I am is to say I'm a Japanese American from Hawai'i. We don't have the same experiences as Asian Americans on the mainland because we're surrounded by other Asian people and other Asian foods and cultures. It makes us so, so unique and special.


So when you wuz growing up you read more American kine comic books/comic strips or more Japanese manga?
I think everyone when they're really young is like super into comic strips. So we all used to read Garfield, right? The kids who had more money would bring their Garfield books to school and we'd all read them.
It wasn't until I would say late elementary school that I was actually aware of other kinds of comics because I went to an all-girl school. So back in '89, there wasn't a whole lot of anime and manga and stuff like that. And a lot of girls at Priory didn't read American comics, you know, like X-Men. So it wasn't until later when I realized that there was actually manga out there. Like VIZ was translating certain Japanese series back in the early/mid 80's and releasing them like American comic issues. I by chance picked up an issue and that's kind of where everything started for me.


You remember that first title you saw?
The first one I picked up was either at Gecko's or Jelly's. It was Nausicaä. Hayao Miyazaki's, you know, his movie. He had adapted it into a comic and VIZ was translating it. I was like, "Wow, this is amazing!"


You feel your style stay more Japanese or American?
I would say my art trends more Japanese. Although the content may not be 100 percent Japanese because it tends to reflect my own personal experiences rather than specifically Japan [experiences].


Try tell us about da comic strip CultureSHOCK! you used to do in college when you wuz at da University of Hawai'i at Mānoa.
So my first year of college I was at Scripps College in Pomona, California. It was an all women's college. And that was my first time away from home. I never did traveling with classes because it was really expensive to do like the DC trip or the neighbor islands trip. Being away, you kind of feel like you're not the Asian from the mainland, and you're not Japanese from Japan. And so where do you fit in?
When I came back to UH in 1997/98 after my first year of college, I went to "The Ka Leo O Hawai'i" [University of Hawai'i's student paper] and I asked, "Oh, do you guys still do comic strips?" Because I didn't really see a whole lot of comic strips in the school paper. There was like just one person doing stick man comics.


You throwing some shade?
(Laughing.) No. It was like literally stick man drawings, literally! I mean, I guess the joke was there, but readers weren't really there for the drawings. It was more like just here's a joke with some text.


So I know you won da Charles M. Schulz Award for College Cartooning for your strip. How you felt?
It was validating. I mean here I am doing like six hours per strip. While at the same time my fellow artist, this stick man guy was just doing, you know, stick man drawings, and he's making the same five dollars that I am. So I was just like, maybe I'm the fool here for doing the actual work.
But in the end it turned out okay because I submitted my CultureSHOCK! strips to Scripps for The College Cartooning Award and I won it in the 1999/2000 year. That basically paid off like one of my college loans from Scripps!


Aftah college you came supa-famous for your web comic nemu*nemu. What does "nemu*nemu" mean?
Nemui is like sleepy in Japanese, but "nemu nemu" is not a real Japanese expression. It was supposed to be like onomatopoeia for sleepy. So sleepy, sleepy. Yes, the character's name is Nemu, but it was meant to be the underlying feeling by which you should experience the comic. The comic is happy-go-lucky, a little bit nostalgic, a little bit dreamlike.

How you came up with your characters?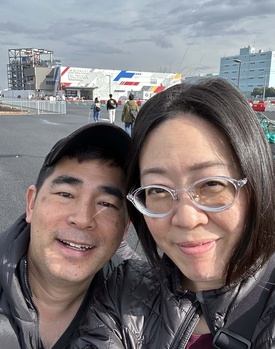 Nemu started off more or less when I met Scott Yoshinaga.
My mom told me about an organization, Manga Bento. Scott had taken it over from a Japanese illustrator who created Manga Bento with the intention of teaching kids the skills to make manga with all of the tools that they used in Japan. But she had to move back to Japan so Scott took over the workshops and when I went to check it out, he asked if I could join up with them and help mentor.


Uh, that explains how you met your future husband, but I no get how that answers my question.
So I had gotten sick early on and Scott had given me a stuffed pup to keep me company. After I got better I would bring the pup with me to work and he would sit by my telephone and then I'd bring him whenever we went out to eat dinner together. It sounds silly but it's like when you're young and playing with your stuffed animals. They sort of grow a personality. That's the genesis of what was eventually to become my character, Anpan.


Oh! Stuff pups come to life! So your nemu*nemu creation story stay intertwined with your how you fell madly in love story. Did you guys like-like each oddah at dis point?
Scott and I started dating early on. We hit it off really well and decided to do a web comic together. So we developed the girl characters and we inserted the pups into the story. Anpan is more neurotic. He has a lot more phobias. He's afraid of water. He's a little bit more stubborn and he tends to get into trouble. Nemu is a lot more laid back. The two pups are sort of like different sides of our personalities like I have a lot of the phobias and Scott can be very zen about things.


Try tell how you two use teamwork for make da dream work.
At the time Scott was doing websites so he wanted to practice some of his web development stuff with nemu*nemu. After work, we would get together for dinner and then work on the comics. So we worked on story together, he would throw ideas at me and I would kind of form them into comic strips. For the first year he inked the comics and he did all the backgrounds. I would scan it and I would do the cleanup. And then he would schedule it to post for the website.


And so your plan wuz for conquer Kawaii Kon?
We didn't really think it was going to be anything huge. It took about a year for us to build up enough stuff to put into a book. And at the time Kawaii Kon was just starting to grow. It was in its third year by the time that we decided to exhibit, maybe in 2006. We decided we'll self-publish a book of our comics, we'll make some t-shirts, and my mom hand sewed a lot of stuffed pups. So those first years at Kawaii Kon were super successful for us and we grew our audience. That was basically how we built up enough money for me to do this as my job.


But aftah awhiles you wuz also getting kinda buss up, ah?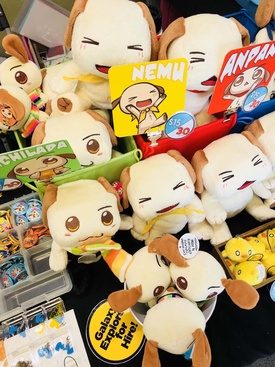 Art is super solitary and art can be just you sitting at a desk for hours that if you don't use your muscles properly or if you don't take breaks, you get a lot of repetitive use injuries. For me, I have an issue based on how I hold my pen. I also had problems with my back because when we were doing events, we would have to haul boxes of merchandise and it really took a toll on my body. So maybe around 2014, Scott was like you have to stop because it was just too much for me to handle.


So das how come nemu*nemu came more irregulars?
Yeah, instead of doing craft fairs and events like how we used to do, we just started going to Japan to take a break from everything and to kind of refresh. Since that point nemu*nemu has been more or less kind of on hold. But every so often I kind of come back with extra stories.


But all your nemu*nemu merch still sells! How come?
Yeah, it was really interesting. It sort of became like where customers were saying, "Oh, no thank you, these pups are just cute on their own, so we just want the pups." And I'm like, (Making sad face) "Oh... but what about the story?" (Laughing).

Besides more periodic nemu*nemu adventures, what else us fans get to look forward to from you?
I've been doing some collaborative work with other creatives. And I have also been doing backend support work for other comic artists who do stuff with Scholastic so that kind of helps to pay my bills. Plus I'm doing the Blue Hawaii comics every other week with The Honolulu Star-Advertiser. And then Patreon is the other means by which I've been still connecting with my audience. The Patreon really helps to keep me afloat financially. Scott helps a lot with his day job, which allows me to, you know, have medical insurance. (Laughing).


If you had for tink of one person whose help you is eternally grateful for in helping you create your nemu*nemu empire, who would you like for tank? Can be anybody. For example you could tank da person you live with perhaps. Or you could tank maybe your husband. Or you can tank anybody... with da name Scott Yoshinaga. But really it's all up to you.
I honestly wouldn't be able to do this without... without... Scott. (Begins crying).

Oh, no.I sorry I made you cry. That wuz supposed to be my funny question.
It's... it's okay. It's just super emotional to think about the journey Scott and I have gone on together. So if you know Robotech, you know the original voice actress for Lynn MinMay is Mari Iijima and I really liked Robotech. Scott had collected all of her CDs. But the funny thing is he did not have the two CDs that I had bought from Hakubundo way back when I was in high school and I just picked them up randomly. Those were the two he was missing. Just like for nemu*nemu, it ended up being a lot of the skills that I needed he had. And a lot of the skills that I had, he needed. When I reflect, I'm always like, wow, that's kismet.
*All photos are courtesy of Audra Furuichi