Tommy Lasorda once said, "The difference between the impossible and the possible lies in a person's determination." Fittingly, Scott Akasaki's determination and dedication towards the game of baseball would ultimately help him become Major League Baseball's first Asian American Senior Director of Team Travel.
In his more than 20-year career with the Los Angeles Dodgers, Akasaki has witnessed an influx of Asian Americans entering professional sports both on the field and in front offices. He attributes this influx of Asian Americans to the "interest the sport gained as more and more Asian-born players entered the league and [have] become household names."


Akasaki's First Interest in Sports
Growing up, Akasaki didn't have the luxury of seeing many Asians in any of the professional American sports leagues. Prior to Hideo Nomo in 1995, there had been only one Japanese-born player to play in the MLB, Masanori Murakami, who briefly pitched for the San Francisco Giants during the 1964 and 1965 seasons.
Despite the lack of Asian representation, it would be Akasaki's parents who initially piqued his interest in sports as they would encourage him to partake in organized sports. He played both baseball and basketball, and regularly watched the two sports on television with his father. He recalls, "It was [my] father's love for both the Lakers and Dodgers, and the numerous conversations [we] would have about the two sports, that would solidify [my] interest in sports."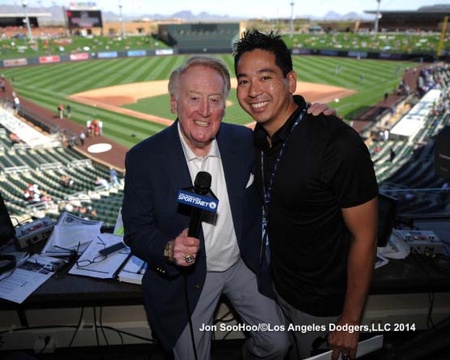 Determining a Career in Sports
While attending Claremont McKenna College, Akasaki's interest in sports would continue. Each morning, he would read the entire Los Angeles Times Sports section and discard all the remaining sections. By his junior year, it had become clear that his true passion was within sports. As a result, Akasaki researched careers that would "allow [me] to get paid for doing something [I] loved." In 1998, he graduated cum laude with a Bachelor of Arts degree in Government and Legal Studies.
In 1999, he applied for and received the Freeman Fellowship grant to study "Japanese Baseball" in Japan for a year. He lived with relatives and became fluent in the Japanese language by learning upwards of 50 words a day using homemade flashcards. Additionally, Akasaki would learn and familiarize himself with the numerous cultural differences between the United States and Japan. Learning both the Japanese language and culture would especially be helpful for both his personal growth and eventually achieving his goal "to become the most well-versed English-speaking expert on Japanese baseball."
He would eventually achieve this goal by traveling all across Japan attending numerous spring training, professional, high school, college, and industrial league baseball games. Akasaki obtained press credentials by volunteering to write articles related to Japanese baseball history and the top Japanese talent for the Rafu Shimpo newspaper. Using his press credentials, Akasaki conducted interviews with the handful of American-born baseball players and Major League Baseball scouts working in Japan and obtained their insights related to Japanese baseball.
Additionally, Akasaki would use his Japanese language skills to translate players' biographical information and statistics from recorded cassettes/tapes and printed articles. In total, he compiled over 500 pages of data. He eventually used it as a bargaining chip to obtain a job with a Major League Baseball club.

Finding a Career in Sports
Upon returning from his year-long trip to Japan with his 500-plus pages of Japanese baseball data, Akasaki contacted all 30 Major League Baseball clubs in hopes of landing a job in sports. In 2000, it would be his hometown team, the Los Angeles Dodgers, that would hire him as an Asian Operations Assistant.
In many ways, it was a perfect match, as he would join an organization that had longstanding ties with Japanese baseball since 1956, when the Dodgers would partake in a goodwill tour in Japan playing against "19 of Japan's best teams in their respective hometown stadiums."
In his role with the Asian Operations department, Akasaki would essentially get to continue his Japanese baseball research, but also advise the Dodgers of all the up-and-coming Japanese baseball talent.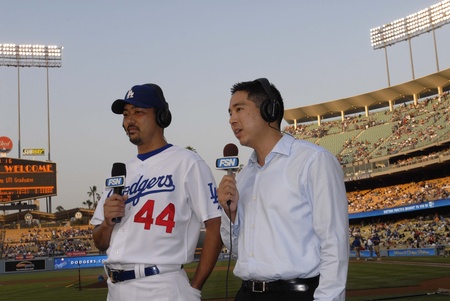 At the time of Akasaki's arrival with the Dodgers, the signing and/or drafting of Asian players was still very much in its infancy as the Dodgers lone Asian player was Chan-Ho Park. However, in 2002, Akasaki's role with the Dodgers expanded as he became the Japanese language interpreter for rookie Kazuhisa Ishii and the reacquired Hideo Nomo.
As the contracts of the Japanese-speaking pitchers ended after the 2004 season, Akasaki was selected and promoted to Director of Team Travel/Traveling Secretary position by Assistant General Manager Kim Ng, who later in her career became the first female and Asian American General Manager in all of sports. In this role, he was responsible for Spring Training scheduling, flight details and scheduling, hotel booking, game-day ticket requests, team travel budgets, as well as bus and equipment truck transportation.
Additionally, he would play an integral part in the MLB's efforts to bring baseball to a broader international audience. Akasaki made the Dodgers' travel arrangements for regular season games to Sydney, Australia (2014), Monterrey, Mexico (2018), and exhibition games in Beijing, China (2008) and Taipei, Taiwan (2010). Similarly, in 2014, he was selected by the MLB to organize a team of MLB All-Stars on a two-week, four-city (Osaka, Tokyo, Sapporo, and Okinawa), seven-game trip to Japan.
In 2017, during the Dodgers' first World Series playoff run in 29 years, Akasaki's workload significantly increased as he made travel arrangements for nearly four times as many people as a regular season game. Akasaki's hard work and dedication was recognized by his peers, as he received the Donald Davidson Memorial Award.
In subsequent years, Akasaki would once again have to make World Series travel arrangements for the team. In 2020, he was rewarded for his efforts with what he considers his greatest Dodgers memory and achievement, "being a part of a World Series Championship organization."

Reflecting on His Career and the Overall Sports Landscape
With more than two decades of experience, Akasaki has seen the baseball landscape significantly change as more Asian-born players entered the league and became household names. He believes that "it created a generation of Asian Americans who grew up watching the game on their televisions and would begin to play the game."
Akasaki mentioned how current Asian American Cleveland Guardian outfielder Steven Kwan would watch and be inspired by Dave Roberts, the current Dodgers manager and former draft pick of the Cleveland Indians. In his two seasons with the Guardians, Kwan has consistently contributed to his team and ranked in the Top 15 for American League runs scored, triples, and hits each year.
Akasaki also believes that as more Asian-born players entered the league, the overall interest towards those sports has grown within Asian communities, as it did for him. Over his career, he has noticed an increase of Asian Americans obtaining prominent front-office positions in baseball organizations and all of sports.
In a July 2023 Japanese American National Museum event "Beyond the Dugout: A Discussion with Japanese American Staff at the Los Angeles Dodgers," Akasaki gathered some of his Japanese American colleagues who also hold prominent roles within the Dodgers front office.
The event featured World Series Champion Dave Roberts (Team Manager), Stephen Nelson (Play-by-Play Broadcaster), Emilee Fragapane (Director of Integrative Baseball Performance), Akasaki (Senior Director of Team Travel), and Will Ireton (Manager of Performance Operations). The panelists discussed their careers, various topics related to Japanese American history/culture, and current Asian American social issues. Despite their varying careers and job responsibilities, the panelists share a common appreciation and admiration towards baseball. Many attribute this to witnessing the influx of Asian-born players entering the MLB.