Recently I did a column for Discover Nikkei on Marion Saki, the hapa Japanese American modern dancer and stage performer of the early 20th century. During the 1920s, Marion Saki achieved renown in musical shows on Broadway and on road tours, where she was able to play non-Asian roles even as she proclaimed her Japanese identity. With the coming of the Great Depression and the decline of vaudeville, her career went into eclipse. Yet even as Saki left the musical stage, she was succeeded by another hapa Nisei performer, Ruth Sato. Sato, who billed herself as "the only Japanese chorus girl on Broadway," did not achieve the same level of renown that Saki had for her talents during the prewar years.
Nevertheless, through canny management of publicity, Sato was able to make herself into a public figure. Popular columnists such as Walter Winchell, who lauded her as a "Japanese doll...with brains," reported her quips and activities. After spending the years of World War II out of the spotlight, she emerged afterwards as Ruth Reinhardt, a savvy Chicago jazz club owner and hostess.
Given Sato's flair for embellishing her own life story in interviews, it can be difficult to establish the accuracy of various details. She was born Ruth Satow in New York on December 12, 1904. Her father Masazo Satow (AKA Sato), born in Japan, moved to the United States in the early 1890s. There he met and married Grace Delia McIntyre, a young woman of Irish ancestry.
According to the 1900 census, Masazo was working as a steward. He later became a florist, and eventually a dry goods dealer and "importer." Ruth was the couple's second child (Masazo had a daughter, Stella, by a previous relationship). She spent her first years in New York City—she later claimed to have lived in a "boarding house" in Brooklyn that was actually a brothel! For some years in the 1910s, the family lived in the suburb of Rye, NY, where they were the only Japanese family. Sato later commented drily about the experience, "I learned to be hated at an early age. But my father always told me we were special." By the outset of 1920, they were again living in New York City.
The Pacific Citizen would later state, undoubtedly based on Sato's own information, that she had attended Barnard College at her father's insistence, but that he had also permitted her to study with famed modern dancer Michio Ito. She added that she was preparing for a teaching career when her father died, and she decided to enter show business.
In fact, by the end of her teen years—at which point her father was very much alive—the young Satow had already worked up an act under the name Ruth Sato (she may have decided to spell her name "Sato" in tribute to an earlier performer, Ruth E. Sato, who had been a song and dance artist in the 1900s.) In early 1923, just turned 18, she went on the road. Sato appeared in Springfield, Massachusetts in a play by Harold Orlob, Take a Chance, then toured theaters in small towns on the B.F. Keith vaudeville circuit, in an act (called variously Dance Gambol and Love Steps) starring Leslie Caulfield.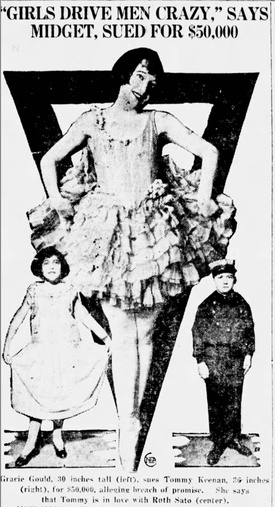 It was during this time, in mid 1924, that she achieved her first publicity coup alongside Tommy Keenan and Gracie Gould, a pair of performers playing in a midget act. Gould announced that she was suing Keenan for $50,000 for breach of promise, and alleged that Keenan had forsaken her for Ruth Sato, a chorus girl in the same show. Sato denied that she and Keenan were in love. "He is nice, but Gracie needn't be afraid of me carrying him off under my arm." The piece, with accompanying photographs, ran in a variety of newspapers.
At the tail end of 1925, Sato made her Broadway debut as a dancer in Song of the Flame, an operetta (billed as a "Romantic Opera") about the Russian Revolution that featured and lyrics by Otto Harbach and Oscar Hammerstein II and music by George Gershwin and Herbert Stothart. The company had a Russian ballet and an American ballet—Sato was in the latter. It played for 219 performances. That fall, she was in the ensemble of another operetta written by Harbach and Hammerstein, Rudolf Friml's The Wild Rose, but it ran for only 61 performances, and then in another unsuccessful show, Lady Do.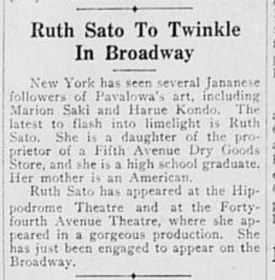 Sato's next project, which she later claimed as her real debut, was in the chorus of George and Ira Gershwin's 1927 musical Funny Face, starring Fred and Adele Astaire.
Sato claimed that she used dark makeup and painted eyes rather than whitening her face, like the other chorus girls. The result was that all audience eyes were on her.
However, her reputation was solidly established with her next project, the 1928 musical Hold Everything! The show, with songs by the team of Buddy Da Sylva, Lew Brown and Ray Henderson, featured actors Victor Moore and Bert Lahr. Even though Sato was only a member of the chorus, she began appearing in newspaper photographs for the show even before it opened, and even was featured in a series of newspaper advertisements for the laxative Tru-Lax.
She scored a further media coup when she announced that she had secured the Japanese rights to the show, and intended to use her experience in the show's chorus to mount a production in Tokyo (Sato confidently asserted that the lyrics of the show's hit song, You are the Cream in My Coffee, would not work in Japan, since coffee was not drunk there, and would have to be changed so that audiences could understand the reference!). "There is no reason why my native Japanese should not like musical comedy done in the American manner."
Naturally, Sato never came close to mounting any production in her "native land" of Japan. Nevertheless, the accompanying newspaper interviews and publicity photos (showing her in both kimono and revealing theatrical costume) earned her the jealous hostility of the other chorines. Sato later recalled, "The girls hated me, so my only friends were the boys, and they were all gay. Some life!"
After Hold Everything!, Sato performed in the original Broadway cast of Richard Rodgers and Lorenz Hart's 1929 show Heads Up. In the years that followed, she was signed as a dancer by showman Billy Rose and performed on Broadway and in tours of Rose's revues Sweet and Low and Crazy Quilt, both starring legendary comedienne Fanny Brice. In 1931 she married her first husband, Gus X. Bacso.
In October 1934 Sato opened in the Casino de Paree Revue, where she worked opposite Milton Berle, the show's star. Sato later claimed that she toured with Berle as his comedy partner, under the name Ming Toy Goldberg. After leaving New York, the show played Philadelphia and Boston. Around this time, Sato separated from her husband and settled in Boston. She appeared in a stage show, Round the Word Cruise, at the Metropolitan Theater, in which she performed a specialty dance—her first solo on stage. She also performed in a musical comedy called The Penthouse in June 1936.
For the next two years, even as Sato awaited payment of her divorce settlement (which was ultimately reported as $35,000) she paused her stage career and worked as a journalist, though it is not clear what her job was. According to contemporary sources, she was engaged as secretary to Boston Record columnist George C. MacKinnon—in March 1939 columnists reported that MacKinnon wished to marry her but could not secure a divorce from his wife. By her own account, she worked under the table as a "legman" for local columnist Walter Howey, and collected hush money he charged to keep items out of his column. Whatever the case, Sato had extra time and yearned to return to the stage.
In Summer 1938 the Intercollegiate League, an intervarsity student social group, sponsored her as a dancer for work in nightclubs and colleges. The League plugged her bookings as both educational and entertaining.
In November 1939, a year after her father's death, Sato returned to New York and took up residence in Greenwich Village. She was engaged to dance in the Evening in Paris floor show at Leon & Eddie's nightclub. It was her first overtly "oriental" role. A critic in Variety described the act:
"Ruth Sato is an Oriental-looking femme who does a Chinese dance as before and after 'the coming of the Marines'. First, in a long mandarin coat, is in classic style, while the coat is shedded for the latter portion for a shim-sham in g-string and bra."
Sato later recalled that she had been hired as "an exotic FAAAN dancer... imported from JAPAAAN," who was supposedly unable to speak English. As a result, she did not interact with customers.
Nevertheless, her performance brought her the best reviews of her career. Columnist George Ross said "the female sensation of the revue seems to be a Eurasian charmer named Ruth Sato, who is thus advertised as America's Most Beautiful Eurasian, and if there are any challengers, let them speak up now." Billboard magazine added, "Miss Sato demonstrates excellent tassel showmanship and should be a good item in any cafés layout." Writing in Women's Wear Daily, Ben Schneider praised the outstanding beauty of the "exotic Eurasian." A critic in the New York Times dissented, referring to the revue as a "honky tonk" show and dismissing Sato for "displaying an unblemished epidermis in a manner not unique."
After her stint at Leon & Eddie's, Sato was engaged for a part in a legitimate stage production, as the Chinese princess Tsoi Tsing in a revival of Sigmund Romberg's operetta East Wind, which opened at St. Louis's well-known Municipal Theater in August 1940. It would be her first and last stage speaking part.
She returned to New York at year's end, and was featured alongside Kimi Toye, Fungoye, and Andy Iona's band in an "all-Oriental revue" at Ching's Waikiki Club, a newly-opened Asian nightclub on 52nd St. Sato served as hostess, introducing the acts, and was praised by Sam Honigberg in Billboard for her "cleverly phrased speeches [and] quiet, charming and sophisticated manner."
Despite Honigberg's endorsement, the show was not a success. When it closed in mid-February, Sato and her colleagues were forced to sue owner Ching for 4 weeks unpaid wages—they eventually were awarded $500. In April 1941 Sato opened as Mistress of Ceremonies and comedienne at a newly-opened New York branch of San Francisco's Asian nightclub Forbidden City, located in a former Swedish restaurant on 58th St. (The opening night featured a benefit performance for the Chinese Women's Relief Association).
Throughout the prewar years, Ruth Sato was extolled by journalists as a "Eurasian beauty" and her photographs appeared in the press on numerous occasions. For her part, she played up her unique presence as "the only Japanese chorus girl on Broadway." She claimed at times to be named Keiku Sato and to have lived in Japan (which it is unclear if she even visited) and agreed to give an "oriental view" to journalists. For example, in 1936 she told an interviewer that her eventual goal was to move to Japan and open a dancing school, and shared her thoughts on the status of Japanese women.
"Women there are just beginning to have a taste of freedom…But even so, they have a long way to go before they have the same rights and opportunities as American girls."
In 1941 she weighed on whether American audiences were harder to please than those in "her native land." Sato replied that Americans were easier because they appreciated beauty and charm, while audiences in the Orient favored technique—all their great stars were men who did female impersonation.