We have the immense pleasure of presenting several haiku from Boshichō Okamura for November. Ever since his grandson, Michael Okamura (of the Little Tokyo Historical Society), began sharing his haiku with me, I've dreamed of recreating a haiku club in Little Tokyo in homage to the Agosto-Sha poetry club that Boshichō co-founded in the early 1920s. No matter what time of year or moment of strife we are going through in the world, there's a wonderful light and solace I find through these poems. It is a great honor to share several haiku (alongside some great photographs) in this month's column. Enjoy!
— traci kato-kiriyama
* * * * *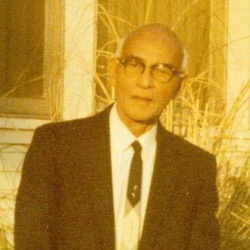 Boshichō Okamura (real name: Toshiyuki Okamura) was born in 1894 in Tottori Prefecture, Japan. He arrived in America in 1916 at age 22 as an agriculture student and immediately started working on farms in California. Soon after he made it to Los Angeles and became enamored with Nihonmachi (Little Tokyo). He lived near Los Angeles County General Hospital and found jobs in Little Tokyo: Pacific Printing Company, Asahi Newspaper, and Toyo Printing Company. Toshiyuki possessed a creative side and was actively involved with haiku poetry, calligraphy, and photography with his many Issei bachelor compatriots. He went by his pen name, Boshichō (眸子鳥). Toshiyuki was involved with the Tottori Prefectural Association, co-founded Agosto-Sha poetry club, and active with the Shakudo-Sha artists club. His poetry was published in local Japanese magazines and newspapers in the 1920s-1930s.
He would send letters to his family in Japan telling them about his life in America, but he never again returned to his homeland. He and his wife, Chiharu, are laid to rest at Evergreen Cemetery in the Boyle Heights neighborhood, a few miles east of Little Tokyo.
Turning on the bedside lamp
I found a blossom dropped by the pillow,
On which I am dropping tears feeling hopeless.

A pomegranate which is ripened beautifully
Is talking with the soul
Being scattered on the ground

To let my mother know
That the countless stars are shining in the sky of America,
I am writing a letter

Listening to the singing insects,
My wife and I talked
About the old Meiji era

I am about to eat
A ripe persimmon. I am so happy
That I am ready to die

Friends have gone home one after another.
I have to spend this night,
Which is foggy, all alone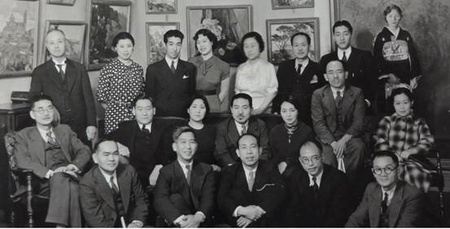 It is the moon
That has been watching for forty years
You and I, a married couple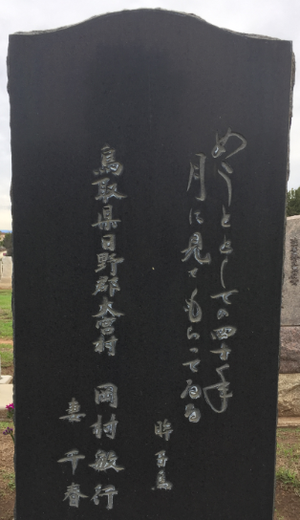 * These poetries were originally published in local Japanese magazines and newspapers in the 1920s-1930s and copyrighted by his grandson Michael Okamura.