For this final column of 2017, I chose to focus on the broad possibilities this month provides—it lends itself to the December 7 reflection that comes to us from Altadena based Ken Okuno, as much as it comes through bittersweet introspection from Wilmington, North Carolina based Daisuke Shen, whose words come from their time this month with family in Japan. Enjoy.
—traci kato-kiriyama
* * * * *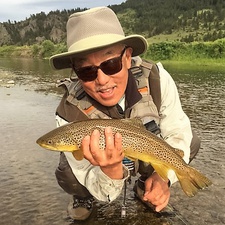 Ken Okuno is a Sansei, born and raised in Pasadena, California. A poet, novelist, and musician, he currently lives in Altadena, CA. He attended University of California, Berkeley where he won the Eisner Prize in poetry in 1970.
DECEMBER 7
I always hated this day when I was a kid.
At school I felt everyone's eyes on me,
as though I had just sneak attacked and bombed
Longfellow Elementary and all its children
and battleships. I remember the Jewish kids –
there were maybe a dozen in the school –
got to put on a program about being Jewish so
everyone could understand they're regular Americans
even if they don't get Christmas presents.
No such program about being born here,
not speaking Japanese beyond naming my favorite foods,
wanting to fight in the US Army against the Japs.
But how could I do that … I was one of them.
In the 50s it was no picnic being Japanese where I was.
We still had lots of war pictures about the enemy.
Neighborhood kids picked fights.
Families had lost sons.
I wanted to get far away.
I found on the east coast I was a curiosity.
The social restraints were restrained but deeply embedded.
Plus I was hungry for Japanese food and Mexican food.
So I'm back in the 5th grade, hoping I could just skip over
the feelings of August 6, the day of the Hiroshima bomb.
Yeah, I know, they're the enemy.
I've heard all the arguments.
Something about that day is not right to a 5th grader,
like December 7.
December 7, 2016
* This poem is copyrighted by Ken Okuno.
* * * * *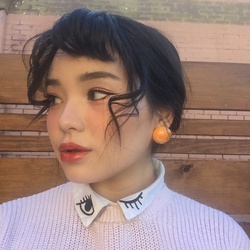 Daisuke Shen is a Sansei writer currently based in Wilmington, North Carolina, although they were raised in both Greenville, South Carolina and Toyohira, Hiroshima. They are a MFA candidate in creative non-fiction and gratuate teaching assistant at University of North Carolina, Wilmington. They are currently working on their thesis, which deals primarily with generational trauma and the US bombing of Hiroshima. They are the co-founder of the non-profit organization Athenian Press & Workshops, which caters to women and femme writers (especially queer writers of color) in the Southeastern US.


When and Where Was Happiness?
For Takiko
There. Between the crinkles of your smile,
Hiding in photographs, the shiso plants
Outside. I've come to ask for forgiveness.
I've come to ask if the dying is going well
In South Carolina, where you first believed
In God and had a book to prove his existence.
In Hiroshima, you were a country bombed.
You were a city split in half and swollen
Like your feet in Tokyo, where once you moved
Across wood floors wearing silk shoes.
Our kitchen table can sit eight, but it's
Always just been the two of us.
This winter, I watch you sprinkle salt
Across the sleeping earth. Another way
To protect the body from trauma.
But you, baachan, don't speak
Much of war terrors. Perhaps you
Have let the grief freeze over,
Allowed the rain to crystalize
Memory.
In America, everyone knows your name but
Severs two syllables from three,
Like damn Jap or okra.
* This is copyrighed by Daisuke Shen.