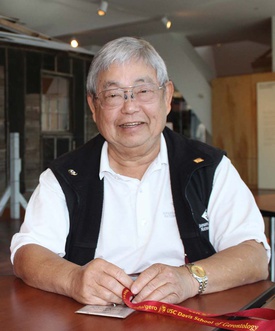 Richard Murakami's wartime experience was an odyssey that saw his family moved from one camp to another. By the end of WWII, they had lived in three concentration camps—in Tule Lake, California; Jerome, Arkansas; and Heart Mountain, Wyoming.
At the outbreak of the war, Richard was living in Lakewood, California, a community with very few Japanese Americans. He recalls that after the Pearl Harbor attack, his hakujin friends advised him not to come to school for a few days. When the Murakamis were eventually imprisoned in camp, it was a unique experience for Richard, who suddenly found himself in a solely Japanese environment.
Richard's father believed in America even though he was a Kibei. He was sure that his family would be released after six months and that he would be allowed to set up a farm.
The farmland offered was in North Dakota, a place full of snow and ice with terrain that had not been successfully cultivated before. He was willing to try but asked for a two-year commitment so he could be assured his family would eat for at least two years. The government refused.
Richard's father became disillusioned after that. He thought of returning to Japan, where two of his sons were living in Hiroshima. But Richard's mother discouraged the idea. "If we go to Japan, how will we live?" Her words seared through the momentary anger. His father answered "yes–yes" to the loyalty questions.
Richard, who was 10 years old when the war broke out, drew strength from the camp experience. He says that he learned to admire the Japanese spirit of the Issei and Nisei, who exemplified gaman, the quality of enduring with dignity.
He believes that the Japanese culture and spirit are responsible for the postwar success of Japanese Americans. "My father was a farmer, but he didn't want us [kids] to be farmers. He wanted us to go to college and [enter] stable professions. We went to camp, and we could have been negative after that. We could have gone down, but we didn't. We became better."
He added that service of the 100th Battalion, 442nd Regimental Combat Team, and Military Intelligence Service changed perceptions of Japanese Americans after the war.
Speaking as a volunteer, he believes that the Japanese American National Museum's second major exhibition, America's Concentration Camps, was the one that "put us on the map."
"That's when I came here to volunteer to do more things," he states. "I looked around and saw everyone working so hard—volunteers and staff. I thought if people are working that hard, it must be a good place to volunteer."
Richard had been active in the Optimist Club since 1969 and was looking for a way to give back to his community upon his retirement from his job as head of a state division that licenses and regulates health plans. In 1994, his unique perspective made him an ideal candidate for JANM docent.
These days, Richard oversees a team of photographers who cover JANM events. "They're all so good," he says. "That makes it fun for me."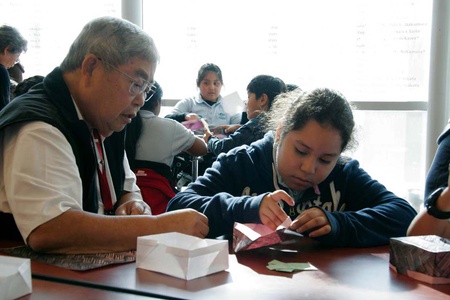 * Richard Murakami was interviewed by Tomomi Kanemaru and this article was written by Ellen Endo for Voices of the Volunteers: Building Blocks of the Japanese American National Museum, a book presented by Nitto Tire and published by The Rafu Shimpo. This story has been modified slightly from the original.

Presented by