Gary Ono's sunny Little Tokyo apartment is a monument to the things he loves.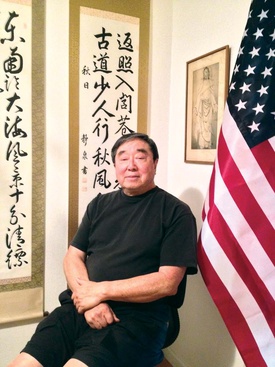 Behind his dining room table hangs a Japanese illustrative scroll—vintage and yellowing—that shows the Japanese emperors in neat rows leading all the way back to their godly, mythical ancestors, Izanami and Izanagi. On the next wall are calligraphy scrolls, each maybe five feet tall, their dark brushstrokes painted by Mrs. Takeda, the nonagenarian who lived in the apartment before Gary moved in.
Farther along the wall, in stark contrast to these monochromatic Japanese artifacts, is an American flag.
This (also a hand-me-down from Mrs. Takeda) Gary brought out for a photo shoot with a neighbor, an elderly Vietnam veteran who wanted a portrait of himself in uniform to display at his funeral. Gary, who was a professional photographer for years before arriving at the Japanese American National Museum, took the veteran's photo on his porch with the flag spread in the background. Afterwards he hung the flag in the kitchen doorway, just for the time being. "But then I thought, 'Huh, I like it,'" he says. So there it stays, another piece of his heart made manifest as decor.
Japanese and American history is only the beginning of Gary's passions. He also sang in the men's choir L.A. Daiku, writes essays for Discover Nikkei, brings his grandchildren on archaeological digs at Amache, a U.S. concentration camp where he and his family were incarcerated during WWII, and researches his other family stories. In 2001, he created the grant-funded documentary Calling Tokyo about his father's time with the British Political Warfare Mission during WWII, broadcasting propaganda to Japan.
Gary became fascinated and researched his grandfather Suyeichi Okamura's Benkyodo, a Japanese confectionary business established in 1906 San Francisco, the year of the devastating earthquake and fire. He strongly believes Benkyodo played a key role in the introduction of the fortune cookie from Japan to America, which most people believe to be Chinese. Suyeichi Okamura helped the Japanese Tea Garden founder and caretaker Makoto Hagiwara formulate the flavor, produce and serve fortune cookies in the famous Golden Gate Park garden.
His research made him a go-to-subject for others also interested in the topic of fortune cookie. He was interviewed by Jennifer 8. Lee of The New York Times for her book Fortune Cookie Chronicles and by Derek Shimoda for the film The Killing of a Chinese Cookie.

Although Calling Tokyo marked the beginning of Gary's family research, he had a history by then of following his curiosity to unknown destinations. When he was drafted in 1963, after having just started his career in news photography, he was given a choice between two assignments: PR photography—much like the type of work he had been doing at home—or medical photography—which he had never heard of, let alone tried. He chose the latter.
Growing up, though, Gary was much less adventurous. Born in 1940, he was "the type of kid that would be behind his mother's skirt," afraid to speak up or join a new group. In his senior year of high school, sensing the closing window of opportunity, he joined the basketball and track teams. He also joined Boy Scout Troop 58, sponsored by the Konkokyo Church in San Francisco, where he made life-long friendships. Since then, he's tried to fight his natural shyness. A loving and involved grandfather of five, he says, "I want my grandkids to know that, if you feel like you want to take part in something, even if you're shy, do it."
Gary realizes now that his grandchildren are not shy. He admires his grandson Chava as he watches him grow into a leader through the Boy Scouts. "People take to him," says Gary. "They'll charge him with organizing a camping trip, and he gets up and talks. At his age, I would have died." Gary is also proud of his granddaughter Solana, Chava's younger sister. She is a swimmer like Chava and sings solos. "She's not shy," says the proud grandpa. His grandchildren are outgoing and confident.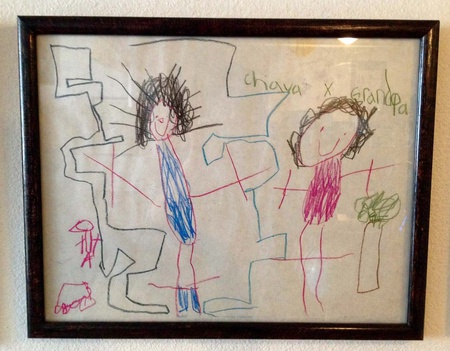 Though he is divorced, he and his wife remain good friends and take family trips together along with their children and grandchildren. "The Museum kind of saved my after-marriage life," he says. "It provided me with a meaningful occupation. It's even one of the reasons why I'm living here [in Little Tokyo]." JANM also helped him find more of an audience for his documentary, and when he spoke about it at a screening; he was surprised to find that he was addressing an audience without fear.
With passion behind him, he realized, he could do anything.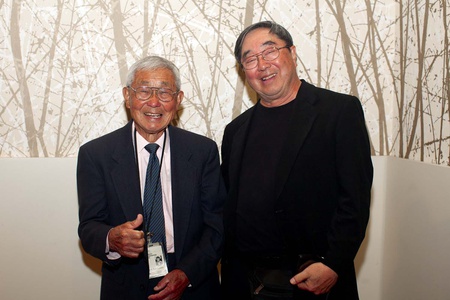 * Gary Ono was interviewed by Tomomi Kanemaru and this article was written by Mia Nakaji Monnier for Voices of the Volunteers: Building Blocks of the Japanese American National Museum, a book presented by Nitto Tire and published by The Rafu Shimpo. This story has been modified slightly from the original.

Presented by