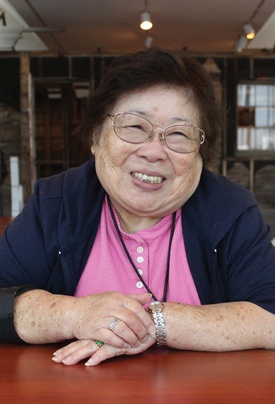 May Fujino (1933–2016) enjoyed her time as a volunteer at the Japanese American National Museum. There, she was able to immerse herself in history and improve her Japanese language skills. But being at JANM also reminded May of her early years and how, even during their toughest times, her family knew how to make the best of any situation.
May was born in 1933 in Salinas, California as the eldest of 12 siblings. "I was a taisho (general)," she chuckled. Both her parents had family roots in Hiroshima, but her father immigrated to the United States at ten years old and her mother was a Kibei-Nisei, so both were bilingual. May's first language was Japanese, and she did not attend a Japanese language school. "Issei no ko dakara," she would say—"Because I was a child of Issei."
Even with their linguistic advantage, the Fujino family faced other obstacles. Because of the Alien Land Laws, which were implemented in California in 1913, Issei could not purchase land. Luckily, the Fujinos were able to purchase and register the property in May's mother's name. Her father was an auto mechanic who ran a garage in Salinas.
After the United States entered World War II in 1941 and Executive Order 9066 was issued, the family boarded up the windows of their house and left the key with a realtor. May's father let his friends park their cars, packed with their belongings, in his garage for free. The family was eventually incarcerated at Poston.
When the Fujinos came home after the war, lots of "daiji na mono" (precious things) had been stolen: all of her father's fishing equipment, his tools for the garage, and a trunk full of kimono from May's grandmother. The War Relocation Authority tried to recover the items, but they were only able to find some large machinery inscribed with May's father's name. He was glad to get at least those items back.
Even with the return of some of their equipment, life was tough for the Fujino family after the war. May's father had a hard time buying materials for his garage because no large companies would sell to him. Only one small business run by two brothers would allow him to buy gasoline and auto parts—and that was only after their store closed for the evening.
Most of the Japanese Americans who returned to Salinas did not have their own houses, so when no one would rent to them, they had no place to live. Since the Fujinos owned their house, May's father would let people sleep on the couch and her mother would cook meals for them. Years later, some people thanked May for her parents' goodwill, but she couldn't remember their names. "So many were in and out," she said, that she couldn't keep them straight. There was a Buddhist church where people also stayed. It was packed.
Life eventually stabilized. May became involved with PTA and church activities, but ultimately she felt closest to JANM, which she joined in 1997 and was an active volunteer right up until her death in February 2016. Clearly, the camaraderie was important to her. "We volunteers see each other once a week, and we eat lunch together," she said. "It is like a family and it is fun. I enjoy talking to people."
May also helped with origami art classes and other craft workshops through the museum's education department. She taught small children how to fold objects like the kori baskets Japanese immigrants used to carry their belongings to America.
The volunteers celebrate birthdays, organize awards, and put together other activities to encourage engagement. May worried sometimes about the lack of young volunteers. But, as they did during the war, the older ones persist.
"Still today, I know three volunteers who have turned 88 years old, and they still drive to the museum every week by themselves," May said. "There are many stories to be told. We need to keep telling these stories."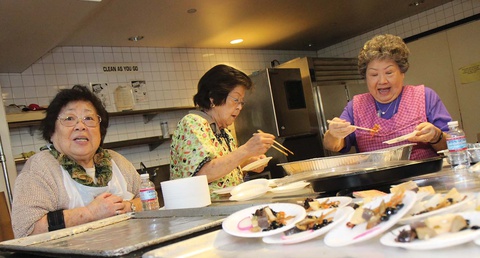 Editor's Note: May Fujino sadly passed away in February 2016, long after this article was written. The article has been modified from the original to reflect her passing. Funeral services were held on March 20, 2016, followed by a celebration of her life at JANM. The events were well attended by family, friends, and colleagues. May will be greatly missed.
* May Fujino was interviewed by Tomomi Kanemaru and the article was written by Ryoko Onishi for Voices of the Volunteers: Building Blocks of the Japanese American National Museum, a book presented by Nitto Tire and published by The Rafu Shimpo.
Presented by