Com esta palavra Hayaku falada com voz firme e repetidamente é que minha mãe me acordava toda manhã para não chegar atrasado na escola. Também era falando Hayaku! Hayaku! que ela apressava a gente para fazer as coisas, pois lerdeza não é com ela. Aliás, até hoje a minha mãe é conhecida como "Amélia Hayaku Hayaku".
Sou Nikkei de terceira geração, meu pai e minha mãe nasceram no Brasil, a minha avó materna já é nascida no Brasil e meus avós paternos vieram como imigrantes do Japão.
Quando criança, eu e meus irmãos aprendemos com meus avós por parte de pai que temos que chamar o meu pai de Otoosan e a minha mãe de Okaasan. Nada de "papai" e "mamãe". Até hoje nós temos esse costume.
Apesar de meus pais terem nascido no Brasil, desde criança estou acostumado com palavras japonesas que usamos em família como: gohan, misoshiru, tsukemono, tofu, sushi, sashimi, mochi – tudo nome de comida que eu gosto muito – e outras palavras como: futon, makura, mofu, shikifu, kasa, ofuro, okane. Imagina a confusão que é misturar japonês na conversa em português.
Quando criança, eu e o meu irmão entrávamos junto com meu pai no ofuro e lembro que o meu pai dizia: "Chapu-chapu" e a gente fazia aquela bagunça batendo na água que enchia a banheira. E quando a gente se lambuzava comendo tororo ou mochi com shoyu, a minha mãe falava: "Que beta-beta!". Acho muito interessantes as onomatopeias da língua japonesa.
A minha mãe, principalmente, mistura muitas palavras japonesas quando estamos em família e, quando comecei a escrever esta crônica, nós dois começamos a relembrar e demos muita risada.
"Leva casaco porque está samui." – falava ela quando a gente saía, cuidando para que não passássemos frio. "Não anda na rua distraído com essas coisas, porque vem dorobo e abunai!" – era a época em que eu me amarrava no Game Boy, um game que meu primo trouxe do Japão. Minha mãe ficava preocupada se algum ladrão ia me roubar.
E quando o meu irmão escreveu na redação da escola: "Em casa eu como de saji", foi só risada em casa. Será que a professora adivinhou que saji é colher em japonês?
Outra coisa que lembro é que nós (meu irmão mais velho, minha irmã mais velha e eu) fazíamos bagunça correndo pela casa gritando: "Vou jogar hanakuso em você!" Bem, acho que os colegas brasileiros não entendiam a razão de tanta zoeira. Agora, me desculpem aqueles que não sabem o que é hanakuso, porque eu sei o que é, mas não sei como se traduz em português...
Eu estudo Engenharia de Produção na faculdade e até dezembro do ano passado estava trabalhando, mas atualmente estou desempregado. Então, eu e um amigo começamos a planejar nossa ida ao Japão para trabalhar como dekasegi. Queremos juntar dinheiro trabalhando no Japão e depois que voltar conseguir um bom emprego aqui.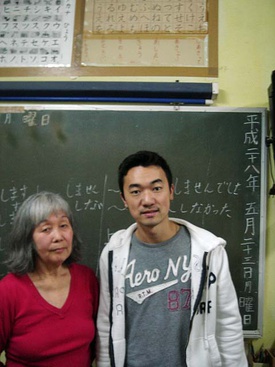 Depois que tomei a decisão, a primeira coisa que fiz foi estudar japonês para poder me virar lá. Inclusive na agência disseram que é importante saber ler e escrever hiragana e katakana. Em março comecei a ter aula particular de nihongo todos os dias. A sensei chama-se Yasuyo Kojima Nagahisa, é muito dedicada e sempre me incentiva falando "Gambatte kudasai!".
Logo na primeira aula eu tomei um susto, pois pensei que sabia um pouco de japonês e disse: Ohayo gozaimasu! Só que eram 11h da manhã e a sensei ensinou que o certo é cumprimentar dizendo: Konnichiwa!
A autoapresentação é uma coisa que não sabia e agora que aprendi estou praticando. As palavras estão escritas aqui conforme se pronuncia:
Hajimemashite. Oki Takashi Willian desu.
Burajiru umare no Nikkei sansei desu.
Haha to ani to ane to São Paulo ni sunde imasu.
Shumi wa eega wo miru koto, kooen de jogingu suru koto, puuru de oyogu koto to jimu de ase o nagasu koto. Sakka mo sukidesu.
Burajiru no natsu wa totemo atsuikeredo, umi de asobunoga saikoo desu.
Nihon de 1~2nen hodo hataraite, Burajiru ni modotte shigoto o shitaidesu. Gambarimasu!
Doozo yoroshiku onegai shimasu.
Para falar a verdade, estou conseguindo ler e entender muitas coisas, mas o mais difícil é entender e saber responder à altura.
Quanto a escrever em hiragana e katakana, até que a minha letra tem jeito de letra, assim falou uma amiga da minha mãe. Estou me esforçando bastante e pretendo acabar de estudar todas as apostilas.
Hayaku! Hayaku!
Antes de embarcar, acho que vou gravar a voz da minha mãe me chamando para não perder a hora. Porque no Japão nem pensar em perder a hora, é preciso acordar na hora certa, tomar o café da manhã na hora certa, comparecer ao trabalho na hora certa e trabalhar do jeito que eles querem. Que Deus me ajude!