Ever heard of Washoku? It's a culinary and cultural tradition of Japanese dishes now quietly prevailing worldwide. If you know Washoku, then Wagyu may not sound peculiar.
"Wagyu" is defined by Larry Olsmed, who wrote "Kobe Beef Scam" in the Forbes magazine (4/13/12) as follows: "Wagyu, on the other hand, means 'Japanese Cattle' and refers to the entirety of the nation's breeds." Beyond that, its definition gets vaguer depending on who you ask and what country you are in. It could be taken to refer to all cows in Japan, including the Western and European breeds with which we are familiar with, but it is most commonly used to refer collectively to all historically Japanese breeds, of which there are four major ones.
Many U.S. ranchers, and the Executive Director of the American Wagyu Association, wrote in to insist that Wagyu is a breed, but I have found zero evidence to support that argument, and lots to refute it. Nonetheless, many farmers and waiting staffs, insist on calling it a breed.
Furthermore, many claim emphatically that it is the same breed as Kobe beef. This is not true. The cattle used for Kobe beef are a form of Wagyu yes, just as Cabernet Sauvignon is a form of grapes. But, not all grapes are Cabernet, and not all Wagyu is Kobe. However, as I said before, Kobe is not necessarily the best, and in Japan, other forms of beef, and other breeds of Wagyu, are sometimes considered superior. All of the four major Japanese breeds generally lumped under the Wagyu umbrella are considered high quality.
San Diego, where I spent 20 plus years, had a Black Angus Restaurant near the Kearny Mesa plant of my ex-employer. However, Kobe Misono Restaurant opened up its branch also in the same area. I frequented Kobe Misono both for business and personal use. I was told Kobe Misono is headquartered in Sannomiya Kobe, founded by Shigeji Fujioka (1909-1999) back in 1945 and he coined the word "Teppanyaki", grilling on an iron plate, combining cooking technique with stylish performance to create a feast both culinary and visually entertaining. At its Kobe headquarters, Tajima-gyu beef was served. In San Diego I was told Wagyu beef from Colorado was being served. It was the first time that I heard the name Wagyu.
I thought Wagyu denotes Japanese cows. That was not the case. A decade later, I heard the name Wagyu from the man I sat beside at a local Toastmasters meeting in Kitakyushu. He temporarily returned from eastern Oregon. I asked "Is it near Wala Wala, Washington." He stared back at me with surprise. "You know Wala Wala?" I told him "My friend moved from San Diego to Wala Wala, famous for jumbo onions right!" Our conversation got lively. He introduced himself as Hurry Yano, a Kyushu native who worked at the Hermiston Ranch, where 2000 Wagyu are raised, about 7 miles south of the Columbia River.
At the next meeting, Hurry brought photographs of his ranch. However, the brochure featured "Washugyu" instead of Wagyu, so I aksed why? He explained "Washugyu" is the premium American Wagyu Beef he named, the topmost Wagyu. As a breeder specialist from Japan, Hurry is responsible for formulating a variety of proprietary feed that includes hay, wheat, crushed soy beans, corns, and rice straws, which is the most important and probably most mystical part of raising cattle. He confided he had special contracts to obtain rice straws from Sacramento Nisei farmers. Wagyu breeding in the U.S. is not for the weak-willed.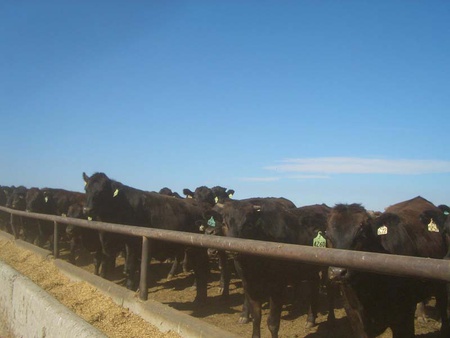 He was close to tears when he heard that the former President of the American Wagyu Association praised Washugyu as one of the best U.S. beef at a national ranchers gathering; proof that Washugyu was recognized as the best branded Wagyu of the Wagyu in the U.S. Responding to my question, "How many Wagyu in the U.S.?," Hurry answered 30,000 to 40,000. This was contrary to my ball park estimate of a million in view of Larry Olsmed's contention mentioned above, and based on the 2002 USDA statistics of 73 million beef cows. Because of the severe drought, this year's prices of all feed rose dramatically. Hurry is afraid his ranch will be hit hard.
I recall my visits to three cattle ranches while I stayed in the U.S. One was in Lubbock Texas. The Kearny Mesa plant my ex-employer leased was owned by a Lubbock rancher. When the plant went through a routine safety checkup, the examiner found a crack in the main roof beam that required expensive repairs. We needed the owner's approval and acceptance of payment. I carried repair drawings and flew to Lubbock. The owner had quite a cattle ranch as well as oil fields. He drove me around his big ranch after our meeting, before I left for the airport. His ranchers served both as cowboys and oil riggers.
The second ranch I visited was when I accompanied the president of my ex-employer to a huge ranch near Lick Observatory located east of San Jose, which was jointly owned by Dave Packard and Bill Hewlett, the founders of Hewlett-Packard. My boss and I were given a chance to accompany a deer hunt on a jeep, chasing horned deer all day until we got one at twilight and had venison dinner that night. The cows there were called red-white face.
The third one was near Taos, New Mexico. It was called CS Ranch with 130,000 acres of land at the foot of Sangre de Cristo Mountain. It was founded by Frank Springer in 1873. There was no business connection to this visit. It was part of an extended pleasure trip I took to imagine how life was out in the "west." The numbers and acreage of American ranches are dwindling steadily each year.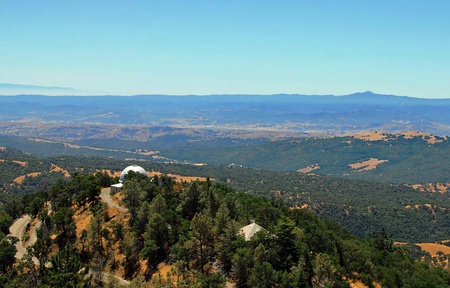 In highest cattle production worldwide, U.S. has lost its place to China, Brazil and India, but U.S. is still tops in terms of safety and consumption. I salute Hurry and wish him success in his dream venture.
Notes & References
4) Raising Wagyu Cattle in Japan, Ministry of Agriculture, Forestry & Fisheries
* This article was originally published on the author's Riosloggers blog on September 3, 2012.