Youth Workshop: Contemporary Origami with Robert J. Lang and Glenn Kaino
Japanese American National Museum
100 N Central Ave
Los Angeles, California, 90012
United States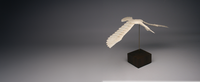 FREE

Join world-renowned physicist and origami artist,  Robert J. Lang , for a workshop on the art of paper folding.  Robert Lang  is a pioneer of the newest kind of origami—using math and engineering principles to fold mind-blowingly intricate designs that are beautiful and, sometimes, very useful. All youth are welcome to join for a unique hands-on lesson with  Glenn Kaino Studio   and learn about how art can tell special stories. Lang is a regular collaborator of  Glenn Kaino , whose exhibition  Aki's Market   is on view at JANM through January 28, 2024.
Please note this workshop is intended for youth (under 18 years of age). Younger children may be accompanied by an adult. Questions or concerns may be directed to  publicprograms@janm.org .

JANM . Last modified Nov 17, 2023 12:22 p.m.
---