Online Resume Writing for High School & College Students

United States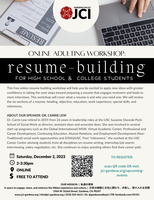 This free online resume-building workshop will help you be excited to apply new ideas with greater confidence in taking the next steps toward preparing a resume that engages reviewers and leads to more interviews. This workshop will cover what a resume is and why you need one. We will review the six sections of a resume: heading, objective, education, work experience, special skills, and references.
 
CLICK HERE TO REGISTER: https://gvjci.wufoo.com/forms/m64d3yv1bamvkb/
 
ABOUT OUR SPEAKER: DR. CARRIE LEW
Dr. Carrie Lew retired in 2019 from 26 years in leadership roles at the USC Suzanne Dworak-Peck School of Social Work as director, assistant dean and associate dean. She was involved in several start-up programs such as the Global (International) MSW, Virtual Academic Center, Professional and Career Development, Continuing Education, Alumni Relations, and Employment Development (Non-Traditional) social work opportunities and DSW@USC. Post "retirement," she worked at the USC Career Center advising students from all disciplines on resume writing, internship/job search, interviewing, salary negotiation, etc. She continues to enjoy assisting others find their career path.
 

GVJCI . Last modified Oct 11, 2023 2:41 p.m.
---