Love in the Library - Based on True Events in Minidoka | Speaker Series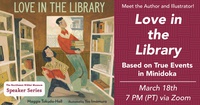 Get cozy and bring your listening ears on Friday, March 18, 2022 at 7 p.m. via Zoom when we'll have a live reading of the picture book Love in the Library, a story of true love that happened in the Minidoka Internment camp. Tama and George meet at Minidoka's small library and their relationship grows during what was a difficult time for Japanese Americans. Author Maggie Tokuda-Hall and illustrator Yas Imamura will present their latest work and hold a conversation on the process of bringing this story to life. This is a family-friendly event and we encourage you to join in with your children, grandchildren and friends!
 Register today!
https://www.jcccw.org/speaker-series
(Registration will close at 5 pm (PT) on March 17, 2022)
-------
About the Northwest Nikkei Museum Speaker Series
Learn about Japanese American history and community development through a new, monthly program with the Northwest Nikkei Museum(NNM)! We'll cover a variety of topics and perspectives related to Japanese Americans in the Northwest and beyond, with a new speaker every third Friday of the month!

jcccwa . Last modified Feb 28, 2023 6:15 p.m.
---