Imagine Little Tokyo 2022 Writing Workshop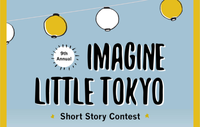 FREE
Join award winning author Naomi Hirahara and Little Tokyo Historical Society leader Mike Okamura for a virtual interactive story writing workshop! Participants will learn tips and get advice for writing short stories that they can submit to the 9th Annual Imagine Little Tokyo Short Story Contest.
Presented by Little Tokyo Historic Society in partnership with Discover Nikkei, the purpose of the Imagine Little Tokyo short story contest is to raise awareness of Little Tokyo through a creative story that takes place in the historic neighborhood. The story must be fictional and set in a current, past, or future Little Tokyo, Los Angeles. The short story committee will be specifically looking for stories that capture the spirit and sense of Little Tokyo. Learn more about submitting your story.
This program is presented by the Little Tokyo Historical Society in collaboration with Discover Nikkei, a project of JANM.

JANM . Last modified Dec 10, 2021 11:43 a.m.
---