Densho Anniversary Gala: 25 Years of Story
online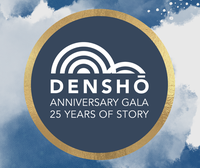 What: Densho Anniversary Gala: 25 Years of Story
When: Saturday, October 23, 5:00-6:30 PM PDT
Where: Virtual!
Join us on October 23rd for a virtual event featuring music, dance, art, and intergenerational conversation. Together, we'll celebrate our roots and explore new ways to shepherd our community's history into the future.

Twenty-five years ago, Densho started documenting oral histories from Japanese Americans who were incarcerated during World War II. Since then, we have grown from a grassroots operation to a robust organization and trusted steward of this history. 

We recognize that this work wouldn't have been possible without you — our storytellers, our supporters; activists, artists, and teachers; those who contribute to our archives, attend our events, and help us share this history. Our community makes us what we are, and that's why we would love to celebrate this important milestone with you. 

Please join us on October 23rd! Registration is free and open to the public.
Learn more and register: https://densho.org/25gala/

densho . Last modified Oct 13, 2021 10:37 a.m.
---