Screening and Q&A —The Race Epidemic: Resurgence of the Yellow Peril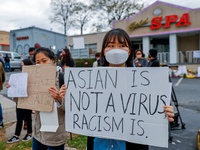 Join Representative Mark Takano, CA State Treasurer John Chiang, and John Kobara (JANM Board of Governors) in a conversation hosted by Fox 11 Anchor Susan Hirasuna following a screening of this powerful film on the epidemic of violence against Asian Americans and Pacific Islanders (AAPIs).
About the film:
The Race Epidemic is about another outbreak caused by COVID-19.  An epidemic of hate based on race against Asian American and Pacific Islanders. With a politicized pandemic sweeping through the country and a former President calling it the Chinese Virus, the rise of attacks and hate against AAPIs is not surprising.
Can naming a virus after an innocent ethnic group cause the outbreak of an epidemic of hate? Or is it something hidden deeper within American society? The film takes a close examination of xenophobia and racism against AAPIs caused by the COVID-19 pandemic.
The Race Epidemic is a significant film of our times as innocent AAPIs are being attacked and murdered on the streets.  It's time to act.  We can no longer be the silent minority. Our voice will not be silenced.
This screening is in partnership with Asian Pacific Leadership Foundation and is a presentation of JANM's National Center for the Preservation of Democracy. 
$20 Suggested Donation

JANM . Last modified Sep 23, 2021 10:13 a.m.
---