Convenience Store Woman: Meet Author Sayaka Murata
Japan Society
333 East 47th Street
New York, New York, 10017
United States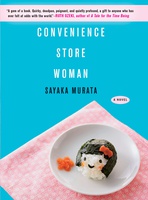 Join us for an intimate talk with author Sayaka Murata, winner of the prestigious Akutagawa Prize and one of Japan's most highly acclaimed comtemporary writers. Deemed Vogue Japan's Woman of the Year in 2016, Murata has authored 10 novels and become the darling of the Japanese literary scene. Her English-language debut, Convenience Store Woman, provides a glimpse into Japanese society through the eyes of an observant misfit. At this program, Murata will discuss her recent work in conversation with translator Ginny Tapley Takemori.
Followed by a book signing and Japanese convenience store themed reception.
Tickets: $15/$12 members, seniors, students
https://www.japansociety.org/event/convenience-store-woman-meet-author-sayaka-murata

japansociety . Last modified Sep 28, 2018 9:37 a.m.
---