Obon Festival - Aiea Hongwanji
Aiea Hongwanji
99-186 Puakala Street
Aiea, Hawaii, 96701
United States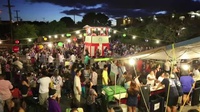 Join Aiea Hongwanji's 2018 Obon Festival! Come to eat, dance, and have fun with the community as it celebrates this traditional Japanese festival honoring our ancestors who have come before!
Aiea Hongwanji Mission is a Jodo Shinshu Buddhist Temple affiliated with the Honpa Hongwanji Mission of Hawaii. The Temple is located at 99-186 Puakala Street in Aiea, Hawaii, USA. The goal of the mission is the propagation of Jodo Shinshu (Mahayana - Pure Land tradition) Buddhism in the Aiea area. Aiea Hongwanji was established in 1902, and has been serving the Aiea community for over a century. In 2002, Aiea Hongwanji celebrated its centennial with education programs and commemoration services.
Saturday, 8/25 - 7:00 p.m.; service: 6:00 p.m.
Learn more about Aiea Hongwanji
Phone: (808) 487-2626

daniyang8 . Last modified Jul 12, 2018 11:48 a.m.
---