Obon Festival - Wailuku Hongwanji
Wailuku Hongwanji Mission
1820 E. Vineyard Street
Wailuku, Maui, Hawaii, 96793
United States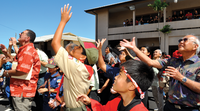 Enjoy obon at Wailuku Hongwanji! Summer is here, and in Hawaii, one of the highlights of the summer season is the Obon festivals that are held almost every weekend at various Buddhist temples. It is believed that the spirits of those who have passed on return to visit during the Obon festivities, and people dance to celebrate their return. Come to honor the ancestors and join in on a weekend of family fun!
Wailuku Hongwanji Mission is part of the Honpa Hongwanji Mission of Hawaii, an organization of 36 Jodo Shinshu Buddhist temples throughout the State of Hawaii. The Hongwanji temples propagate the teachings of Pure Land Buddhism of Shinran Shonin (1173 – 1263). Founded in 1899, Wailuku Hongwanji Mission served as a spiritual and social gathering place for the Issei or first generation Japanese immigrants who came to Hawaii in search of a brighter future.
Friday, 8/3 - 8:00 p.m.
Saturday, 8/4 - 8:00 p.m.
Learn more about Wailuku Hongwanji
Phone: (808) 244-0406

daniyang8 . Last modified Jul 17, 2018 1:12 p.m.
---