Obon Festival - Manoa Koganji
Manoa Koganji
2869 Oahu Ave
Honolulu, Hawaii, 96822
United States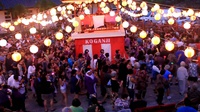 Join Manoa Koganji in celebration of its 2018 obon festival! Join in the Japanese tradition of obon, a time of remembrance to honor our ancestors through food, dance, and fun!
Manoa Koganji finds its beginnings in 1974 in a converted spare room in the hourse of the Abbess Jikyu. Despite its humble origins, it quickly grew and established its base of practice in a temple built in Manoa Valley, where it continues its mission of growth and learning today.
Friday, 8/3 - 5:00-10:00 p.m.
Saturday, 8/4 - 5:00-10:00 p.m.
Learn more about Manoa Koganji
Phone: (808) 988-4905

daniyang8 . Last modified Jul 12, 2018 10:33 a.m.
---