Directing Godzilla: The Life of Filmmaker Ishiro Honda
Japan Society
333 East 47th Street
New York, New York, 10017
United States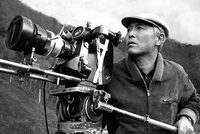 Godzilla, Mothra, The Mysterians — Japan's most celebrated monster movies and sci-fi classics were brought to the screen by filmmaker Ishiro Honda. A long-overlooked talent, Honda is now considered one of the most influential directors of Japanese cinematic history, wowing audiences with fantastical special effects while expressing the anxieties of Japan's postwar reality. At this talk, Steve Ryfle, noted scholar of Japanese science fiction cinema and author of Ishiro Honda: A Life in Film, From Godzilla to Kurosawa, draws back the curtain on the man behind the monsters. Followed by a book signing reception.
Event Link: https://www.japansociety.org/event/directing-godzilla-the-life-of-filmmaker-ishiro-honda

japansociety . Last modified Nov 27, 2017 12:08 p.m.
---