Film Screening and Q&A;—Mifune: The Last Samurai
Japanese American National Museum
100 North Central Avenue
Los Angeles, California, 90012
United States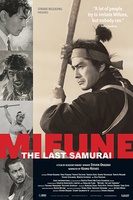 Mifune: The Last Samurai, a new film by Academy Award-winning filmmaker Steven Okazaki, explores the accidental movie career of Toshiro Mifune, one of the true giants of world cinema.
Mifune made 16 remarkable films with director Akira Kurosawa during the golden age of Japanese cinema, including Rashomon (1950), Seven Samurai (1954), and Yojimbo (1961). Together they thrilled audiences and influenced filmmaking around the world, providing direct inspiration for the iconic 1960 Western The Magnificent Seven; Sergio Leone and Clint Eastwood's breakout 1964 movie, A Fistful of Dollars; and even George Lucas' 1977 blockbuster hit, Star Wars.
The filmmaker will be present for a Q&A following the screening.
Included with museum admission. RSVPs are strongly recommended.
In the Tateuchi Democracy Forum. Check janm.org for updates.

JANM . Last modified Jan 07, 2018 4:52 p.m.
---