Kimono & Japanese Gifts Christmas Sale
Olympic Village
1 Athletes way
Vancouver, British Columbia
Canada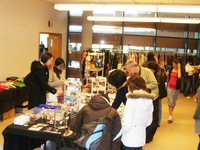 Our annual sale is here!
We'll be selling kimono, haori, yukata, obi, tabi socks, geta, hair accessories, key charms, coin purses, scarves, jewelry, etc.
Room 2 on 1st floor (Not a part of Portobello West market which will be in the gym on the same day)


wapac2 . Last modified Oct 30, 2017 2:07 p.m.
---