1st World Uchinaanchu (Okinawan) Day Celebration
Toyota Meeting Hall (Torrance Cultural Arts Center)
3330 Civic Center Drive
Torrance, California, 90503
United States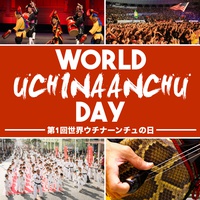 Attachments
Celebration of heritage: Torrance event with guests from Okinawa
"Let us set off, to the five continents we will call home." These powerful words were said over a century ago by Kyūzō Tōyama, historically known as the grandfather of Okinawan immigration.
In honor of the first Okinawan immigrants who fearlessly traveled across the world, the Okinawa Association of America (OAA) will host the inaugural World Uchinānchu (Okinawan) Day celebration on Thursday, October 26. Featuring special guest performers from Okinawa, the event will take place at the Torrance Cultural Arts Center's Toyota Meeting Hall from 7 to 9PM.
The highlight of the event will be special performances directly from Okinawa. Musician, poet, and director Daiichi Hirata -- who brought his epic "King Shō Hashi" musical to L.A. eight years ago -- will be returning with a team of professional musicians, dancers, and karate practitioners. Their dynamic presentation will blend traditional and modern elements, ensuring that this will be a must-see event. Local performers including the L.A. branch of Ryūkyūkoku Matsuri Daiko will also make an appearance.
At the closing ceremony of last year's World Uchinānchu Festival -- a massive, global "homecoming" for the descendants of Okinawan immigrants -- Okinawa Prefecture Governor Takeshi Onaga announced that October 30 would henceforth be declared as World Uchinānchu Day (WUD). The idea was proposed by Andres Higa and Tadashi Andres Ysa Urbina, third-generation Okinawan descendants from Argentina and Peru, respectively.
They took to the stage at the closing ceremony with a powerful message: "We have gratitude for our ancestors in our hearts. We have love for all those we meet in our hearts. We have love for our ancestral home in our hearts." The speech -- spoken in Japanese with a large screen displaying English, Portuguese, and Spanish translations -- was received with loud cheers from the audience. "[Today] Uchinānchu of the world have gathered once again, and once again our hearts have become one. Let us celebrate the fact that we are all Uchinānchu."
The October 26 event in Torrance will be filmed and screened at an official WUD ceremony in Okinawa to take place four days later. 
RSVP is required due to limited space: oaamensore@gmail.com, 310-532-1929. Admission is free for current OAA members and $10 for the public. The Toyota Meeting Hall is located at 3330 Civic Center Drive in Torrance (next to the James Armstrong Theatre).

josephkamiya . Last modified Jul 18, 2023 6:47 p.m.
---