Okinawa Picnic and Bon Dance
Whittier Narrows Park
750 Santa Anita Avenue, Area E-1
(on-site parking: $6)
South El Monte, California, 91733
United States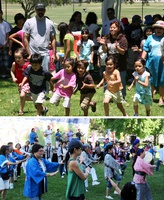 Attachments
Summer Fun and Bon Dancing at Okinawa Picnic
The Okinawa Association of America (OAA) will host their Annual Members Picnic on July 16 (Sunday), 11AM to 4PM at Whittier Narrows Park in South El Monte. Featuring live entertainment, games/races, a youth art contest, raffle drawings, and Bon dancing, it's the perfect event for reunions or a Sunday outing with family and friends! (Non-members are also encouraged to attend the event and apply for membership)
The picnic has been a tradition for OAA members since the 1930′s, bringing together hundreds of local Okinawans and Okinawans-at-heart. In 2007, the OAA expanded their event with Okinawan style Bon dancing. 8 unique choreographies are danced in coordination with live music by sanshin (Okinawan 3-stringed lute) and parankuu (hand drum) musicians. Introduced by longtime member Naomi Endow, this year marks the 10th anniversary of Los Angeles' only all-Okinawan Bon Odori.

New attractions at this year's event include a family photo booth and a craft corner where people can create their own bingata-style artwork (bingata is a traditional Okinawan style of stencil dyeing). Annual staples like the all-day entertainment program, children's games/races (prizes for all!) and art contest (17 years and younger) will be returning, as well as the much-anticipated men vs. women tsunahiki (tug-o-war).
For $1 per raffle ticket, you can try your luck at 4 one-day "park hopper passes" to Disneyland (generously donated by the Walt Disney Company). Other great prizes include tickets to Six Flags Magic Mountain, the L.A. County Fair, and the Dodgers, Ohana ukuleles, children's bicycles, gift cards, and more. All funds raised from raffle tickets will go toward our yearly activities as well as much needed maintenance and repairs for our organization's buildings.
Bring your lawn chairs, blankets, and happi coats to Whittier Narrows Park (750 Santa Anita Ave., Area E-1, South El Monte, $6 on-site parking) for this year's OAA Picnic! Event opens at 10AM, program from 11AM to 4PM. Optional bento ($10) and raffle tickets ($1) available (pre-orders only): oaamensore@gmail.com, 310-532-1929.
This year's picnic made possible by: Oki Dog (L.A.), Miyashiro Enterprises, Inc. (Torrance), Pelican Signs (Manhattan Beach), and Brenda Yoko Higa.
Click here for the entertainment line-up, raffle prize list, bento pre-order forms, and youth art contest application

josephkamiya . Last modified Jun 29, 2017 1:08 p.m.
---