Obon Festival - Los Angeles Hompa Hongwanji Buddhist Temple
Los Angeles Hompa Hongwanji Buddhist Temple
815 East First Street
Los Angeles, California, 90012
United States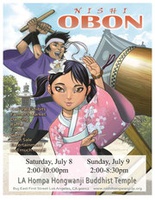 Join the Los Angeles Hompa Hongwanji Buddhist Temple for their obon festival, an opportunity for one to reflect upon the innumerable causes and conditions that continue to influence the lives and the benefits one has received from the countless lives of others. Enjoy a weekend of live performances of Polynesian and Japanese dance, as well as Japanese food, games, and prizes!
Saturday, 07/08/17 - 2:00 p.m. to 10:00 p.m.; Odori: 7:00 p.m.
Sunday, 07/09/17 - 2:00 p.m. to 8:30 p.m.; Odori: 6:00 p.m.

daniyang8 . Last modified Jun 22, 2017 12:23 p.m.
---