Valor With Honor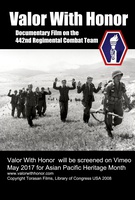 "Valor With Honor" will be shown on "Vimeo" starting May 2017 for Asian Pacific Heritage Month. Visit www.valorwithhonor.com for info and the films historical timeline.
https://vimeo.com/ondemand/valorwithhonor
Trailer: https://youtu.be/EW-TfmpMpYs


"Valor with Honor" not only records the deeds and emotions of the veterans of the 442nd, but highlights the difficult struggle of the brave Nisei both on and off the battlefield. It is a suburb documentary." Professor Joe Roth, San Jose State University
"Valor with Honor" is an independent documentary film based on over 35 oral histories on Japanese American WW2 vets that served in 442nd Regimental Combat Team. The film is 85 minutes long.
"Valor with Honor" preserves vivid first hand accounts of fierce battles, dramatic rescues, and the liberation of Jewish prisoners at Dachau" Esther Newman, Discover Nikkei

Tanukisan05 . Last modified Apr 16, 2017 6:33 p.m.
---