The Face of Another 他人の顔 (Tanin no Kao)
Japan Society
333 East 47th Street
New York, NY 10017
New York, New York, 10017
United States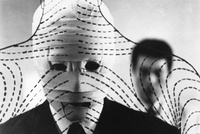 Legendary actor Tatsuya Nakadai visits Japan Society for a 50th anniversary screening of Hiroshi Teshigahara's existential, horror-tinged masterpiece. The third of four film collaborations between director Teshigahara, composer Toru Takemitsu and writer Kobo Abe (who adapted his own best-selling novel for the screen), The Face of Another brilliantly examines themes of identity and alienation through the story of Okuyama, a young businessman who is fitted with a lifelike prosthetic mask after an industrial accident leaves him burned and disfigured. While the new face initially offers a sense of freedom, things take a dark turn as Okuyama becomes increasingly paranoid and erratic, suggesting the mask has taken on a chilling personality of its own.
1966, 124 min., 35mm, b/w, in Japanese with English subtitles. Directed by Hiroshi Teshigahara. With Tatsuya Nakadai, Machiko Kyo, Mikijiro Hira, Kyoko Kishida, Eiji Okada.
After the screening, Nakadai will be joined on stage by Yukie Kamiya, Japan Society Gallery Director, for a unique conversation about the significance of masks and noh influences in The Face of Another and Nakadai's long-spanning acting career. This event is presented in conjunction with the Japan Society Gallery exhibition Simon Starling: At Twilight (After W.B. Yeats' Noh Reincarnation) (Oct. 14, 2016-Jan. 15, 2017), which explores the impact of noh on art in Western Modernism.
Tickets
$15/$12 Japan Society members
http://www.japansociety.org/event/the-face-of-another

APA_Institute . Last modified Sep 09, 2016 12:15 p.m.
---