Chigiri-e Paper Art Workshop
Japan Society
333 East 47th Street
New York, New York, 10017
United States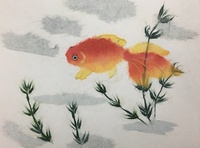 WORKSHOP
Fri., Sept. 9, 6:30 PM
Join us for a one-time-only workshop on the Japanese paper art of chigiri-e, led by visiting experts from Japan's Gifu Prefecture. In this delicate art form, Minowashi paper is gently torn into shapes and pasted on to shikishi paperboards to create beautiful watercolor-like pictures. Participants will have the opportunity to use Mino washi, a traditional paper from Gifu, which has been used for more than 1300 years in the production of craftwork such as paper lanterns and umbrellas.Chigiri-e takes advantage of Mino washi's distinct texture and durability to create colorful, one-of-a-kind art works.

Part of Get to Know Japan Series: Gifu Prefecture.
TICKETS: $35/$30 Japan Society members, seniors and students

japansociety . Last modified Aug 03, 2016 10:56 a.m.
---