City of Anaheim Highlights Nikkei Family
Anaheim Central Library
500 W. Broadway
Anaheim , California, 92805
United States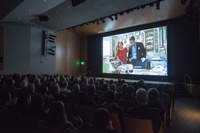 The Anaheim Public Library Foundation will be screening the Emmy Award winning documentary "The Legacy of Heart Mountain" and unveiling their new Anaheim Family Photo Collection highlighting the only four generation family in the City of Anaheim's archives. The Frank C. Hirahara family has lived in Anaheim for 60 years and 106 years in America. Admission and parking is free at the Anaheim Central Library. RSVP's are requested to ginnygardner340@gmail.com.
For more information,
http://www.anaheimanytime.org/DocumentCenter/View/9213
Photo Credit Richard Strauss, The Smithsonian Institution

PhotogPatti . Last modified Nov 06, 2015 3:52 p.m.
---