Experiencing the World of Japanese Noh Theater Dance
Columbia University
Miller Theatre
2960 Broadway @ W. 116th St.
New York, New York
United States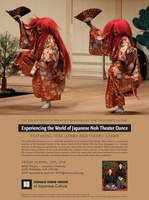 Featuring Hisa Uzawa and Hikaru Uzawa.
One of the first women to act as a lead shite performer in a tradition lineage, Hisa Uzawa is a prominent member of the Tessenkai branch of the Kanze School of Noh theater. She has been designated as a "cultural treasure" by the Japanese government. In their New York debut, she and her daughter Hikaru will introduce the dynamics and techniques of the six-hundred-fifty year tradition of dance that lies at the heart of the Noh theater. The Uzawas will perform climactic dance sequences from four major plays and present behind-the-scenes details of costume and choreography. An intimate glimpse of one of the world's major dance traditions!
RSVP requested by April 10th: RSVP@keenecenter.org

APA_Institute . Last modified Apr 01, 2015 10:11 a.m.
---