Exhibit: "Art Behind Barbed Wire"
Oregon Nikkei Legacy Center
121 NW 2nd Avenue
Portland, Oregon, 97209
United States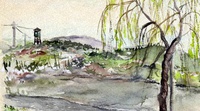 Art Behind Barbed Wire: A Pacific Northwest Exploration of Japanese American Arts and Crafts Created in World War II Incarceration Camps
Art Behind Barbed Wire is a travelling exhibition from the Japanese Cultural & Community Center of Washington's Northwest Nikkei Museum, featuring arts and crafts from the Pacific Northwest community created by Japanese Americans in World War II incarceration camps.
Largely made from scrap and found materials, objects such as carved wooden bird pins, shell brooches, dolls, inlaid furniture, and paintings are a testament to the spirit, strength, and creativity of Japanese Americans who created beauty in the harshest of physical and human conditions. The voices and humanity of those unjustly deprived of their civil liberties are remembered through their art created behind barbed wire.
Oregon Nikkei Legacy Center
121 NW 2nd Ave.
Portland, OR 97209
503-224-1458
www.oregonnikkei.org

Oregon_Nikkei . Last modified Oct 09, 2014 11:03 a.m.
---