San Jose Taiko 40th Anniversary Concert
Center for the Performing Arts
255 Almaden Blvd
San Jose, California, 95113
United States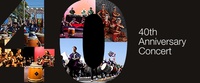 San Jose Taiko concludes its 40th Anniversary Season with a concert performance that includes fan-favorite SJT classic arrangements as well as some world-premiere compositions. Special guest artists Abhinaya Dance Company of San Jose join SJT on stage for a portion of this program. Also, witness the debut performance of one of the largest taiko in North America.
San Jose Taiko 40th Anniversary Concert
October 5, 2013 8:00PM
Center for the Performing Arts
255 Almaden Blvd
San Jose, CA 95113
Advance: $25 Adult, $20 Student/Senior
Door: $30 Adult, $25 Student/Senior
Call the SJT office for group rates (10 or more)
For more questions or more information: info@taiko.org or 408-293-9344.

San_Jose_Taiko . Last modified Jul 22, 2013 4:33 p.m.
---