"Breaking the Silence" - A powerful play on the Japanese-American experience in the United States
BLAINE MEMORIAL, UNITED METHODIST CHURCH
3001 24th Ave S,
Seattle, Washington, 98144
United States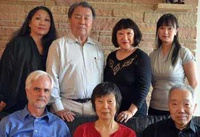 Attachments
A FUNDRAISER to support the travel expenses of our cast and crew to Hiroshima
Breaking the Silence premiered in 1985 to benefit the civil disobedience case of Gordon Hirabayashi. The play was written by Nisei actor/writer, Nikki Nojima Louis, who spent her early childhood in Minidoka, Idaho.
To be performed for the first time in Japan in a English-Japanese Readers' Theater production
BLAINE MEMORIAL
UNITED METHODIST CHURCH ~ Sanctuary
3001 24th Ave S, Seattle, WA 98144
Saturday June 8, 7 pm
Info: 206-860-6005

yn . Last modified May 31, 2013 9:21 a.m.
---