Parent/Child taiko workshop
Portland Taiko studio
3230 NE Columbia Blvd
Portland, Oregon, 97211
United States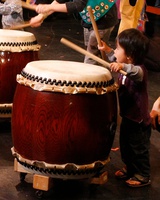 Parent – Child Workshop
Sunday, October 14th
1:00 p – 2:00 p / $30
No experience necessary!
Parent-Child Workshop is an hour-long introductory workshop for kids and parents to get a delightful experience of taiko together! Activities include stretching, drum rolls, repeating basic rhythms and taiko games encouraging cooperation and focused energy.

Ptowntaiko . Last modified Oct 09, 2012 4:31 p.m.
---