Hold These Truths: The Journey of Gordon Hirabayashi -- A Solo Play by Jeanne Sakata
The Theater at the 14th Street Y
344 East 14th Street (between First and Second Avenues)
New York, New York, 10024
United States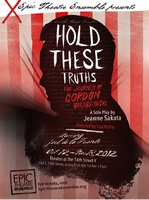 Previews – Friday, October 12 through October 20
Opens Sunday, October 21 and runs through Sunday, November 18
Award-winning Epic Theatre Ensemble presents Hold These Truths Off Broadway in repertory as part of its fall season.
Inspired by a true story, Hold These Truths is a one-man show by actress and playwright Jeanne Sakata. Joel de la Fuente stars as Gordon Hirabayashi, a first generation Japanese American who was a student at the University of Washington during World War II. Hirabayashi was jailed for violating the curfew and internment orders imposed on West Coast residents of Japanese descent, turning himself into the FBI to protest that the orders were acts of racial discrimination. After losing his appeal to the Supreme Court, the Seattle native served prison time at a labor camp near Tucson, where a recreation site now bears his name.
Gordon Hirabayashi died on January 2, 2012, at age 93. In April of this year, President Obama posthumously awarded Hirabayashi the Presidential Medal of Freedom, the nation's highest civilian honor.
Directed by Lisa Rothe, Hold These Truths depicts how Hirabayashi agonized over the forcible removal of all people of Japanese ancestry on the West Coast. Hirabayashi journeys toward a greater understanding of America's triumphs – and a confrontation with its failures.
The performance schedule for Hold These Truths is Saturdays, Sundays, and Mondays at 7:00 p.m., with matinees on Sundays at 3:00 p.m. Post-show discussions will follow each performance.
To purchase tickets, please visit www.epictheatreensemble.org or call 866-811-4111.

vkm . Last modified Oct 13, 2012 10:14 a.m.
---