San Jose Taiko's Rhythm Spirit 2012: Taiko + Technology
School of Arts and Culture at Mexican Heritage Plaza
1700 Alum Rock Ave
San Jose, California, 95116
United States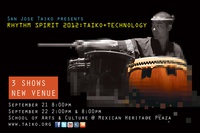 Buy tickets online or purchase by phone: 408-293-9344.
San Jose Taiko draws inspiration from the digital-driven Silicon Valley for its "Rhythm Spirit 2012: Taiko+Technology" production September 21 and 22. The company will be at an exciting new venue this year: the School of Arts and Culture at the Mexican Heritage Plaza ., and SJT will partner with the ZERO1 Biennial to explore the art form of taiko through collaboration with technologist/artists. The production can already be enjoyed by audiences as SJT shares the process through its social media channels (see below).
Stay tuned for more updates as we share our behind-the-scenes glimpse into our process for creating work. We'll be posting often on Facebook , Twitter , YouTube , Tumblr , and periodically on Soundcloud .
3 Shows:
Friday, September 21 - 8:00PM
Saturday, September 22 - 2:00PM & 8:00PM
We are delighted to be at a NEW VENUE this year:
School of Arts & Culture at Mexican Heritage Plaza
1700 Alum Rock Avenue
San Jose, CA 95116
Ticket prices if purchased in advance: Adults: $25 Students/Seniors $20
Ticket prices at the door: $30/$25
Group rates available
Thank you to our partners for making this production possible: ZERO1 Biennial, School of Arts & Culture at Mexican Heritage Plaza, LiveSV, CreaTV, and the City of San Jose

San_Jose_Taiko . Last modified Aug 09, 2012 10:42 a.m.
---