Honoring the Go For Broke
The Go For Broke Monument
160 N. Central Ave.
Los Angeles, California, 90012
United States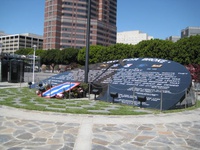 Memorial Service at the Go For Broke Monument
@ Little Tokyo, Los Angeles
For the fifth occasion, Reiyukai America (Pasadena, California) will be hosting a tribute ceremony at the Go For Broke Monument located in Little Tokyo commemorating the Memorial Day month. Reiyukai America, as an organization that honors the ancestors and the heroes, has been organizing this activity since 2008, every third Sunday of May, to give respect and appreciation to the Japanese-American soldiers that dedicated their lives to protect this country. Thanks to their service to this country and perseverance during a time of harsh prejudice, not only can the Japanese-Americans of all generations but the new Japanese immigrants and visitors can live today with honor and pride.
For this year, the ceremony will be held on Sunday, May 20th, 2012 starting at 10 a.m. in front of the Go For Broke Monument located in Little Tokyo, Downtown Los Angeles. Reiyukai America would like to extend its invitation to everyone in the Greater Los Angeles Area regardless of their cultural and ethnic background as a member of the community.

ReiyukaiAmerica . Last modified May 15, 2012 11:13 a.m.
---