Shiwasu: Handmade Gifts Show and Sale
National Nikkei Museum & Heritage Centre
6688 Southoaks Crescent (corner of Kingsway & Sperling Ave)
Burnaby, British Columbia, V5E 4M7
Canada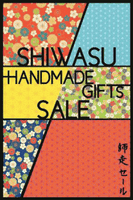 Japanese Canadian National Museum presents
Shiwasu: Handmade Gifts Show and Sale
December 2 - 18, 2010

Special opening day hours: December 2, 3pm-9pm.
Regular hours: Dec 3-18, Tuesday-Saturday 11am-5pm
Closed Sunday & Monday
Free admission

National Nikkei Museum & Heritage Centre
6688 Southoaks Crescent (corner of Kingsway & Sperling Ave)
Burnaby, BC. V5E 4M7
Email: jcnm@nikkeiplace.org
Tel 604.777.7000
www.jcnm.ca
Get ready for the holidays with gorgeous handmade crafts by local Japanese Canadian artists. Find perfect gifts with a Japanese flair for all ages!
…kimono fabric items, washi paper, teas, pottery, jewellery, cards, clothing, accessories, paintings and more...
Enjoy a dazzling display of decorated Christmas trees in the lobby.
Artists include:
Pac West, Yuko Yoshida (kimono fabric items) http://wa.pacwestie.com/
Mari Yasuda (clothing) http://www.mariyasuda.com/
Lotus Miyashita (art, magnets, cards, jewellery) http://www.lotusmdesign.com/
Sachi Yamabe (Paintings) http://sachiyamabe.com/
Lin Crane (handbags made with Japanese fabrics)
Robert Shiozaki (Pottery) http://www.vandopgallery.com/artists/dsp_artist.php?ArtistID=20
Kimiko Hawkes (fabric kokeshi dolls and cards)
Kyoko Yamaguchi (jewellery)
Moonfly Designs, Kim Kalanj (paper crafts) http://www.moonflydesigns.com/
Himawari Designs (glass accessories) http://www.himawari.ca/index.php
Kayo Hosaka (leather accessories)
Joseph Wu (origami sculptures) http://www.josephwu.com/home.html
Jean Okada (fabric accessories)
Mellon Glass (glass) http://www.mellonglass.com/
Babymaci (baby clothes) http://www.babymaci.com/
and more…


NNMCC . Last modified Nov 24, 2010 1:28 p.m.
---