Exhibition - Amache: Colorado's Japanese Internment Camp
Aurora History Museum
15051 E Alameda Parkway
Aurora, Colorado, 80012
United States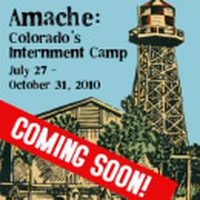 Imagine being given one week's notice that you have to leave your home, taking only what you can carry. Nearly 120,000 Japanese Americans were ordered to do just that in 1942.
Some came to an internment camp called Amache in Southeastern Colorado. Come learn about life at Amache and why these loyal Americans were forced into a life behind barbed wire.
The exhibit will feature a re-creation of a 16 x 20 ft. barracks room. Visitors will be able to walk into the room and experience the size and life of internees in the camp. In addition, craft pieces and silk screen items created in the camp, domestic ware, and archaeological pieces will be on display.
Museum Hours:
Tuesday – Friday, 9am – 4pm 
Saturday & Sunday, 11am – 4pm
Admission is FREE. Call 303.739.6666 for more information.
Visit their website for more info >>

vkm . Last modified Jan 28, 2023 1:48 a.m.
---