JASC Cooking Class
JASC
4427 N Clark
Chicago, Illinois
United States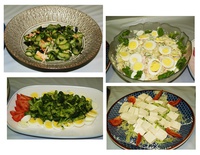 JAPANESE SALADS & TSUKEMONO
(tofu salad, somen salad, takuan, and other pickled delicacies known as tsukemono, etc.)
Saturday, June 12, 2010
Fee: $50 JASC Members: $40
earn about sunomono, tofu salad, and somen or noodle salad. What exactly is tsukemono and why is it good for you? Learn traditional methods and faster, contemporary ones of making a variety of these pickled delicacies.
Download Home Style Japanese Cooking Classes' registration form here.
For further information please contact JASC at jascinfo@jasc-chicago.org.
Web Site
www.jasc-chicago.org
Click here for
map & directions

intrepidmouse . Last modified Jul 09, 2010 12:14 p.m.
---