San Jose Taiko in Concert - Castleton, VT
Castleton State College: Casella Theater
45 Alumni Drive
Castleton, VT, Vermont
United States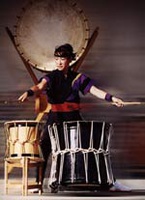 http://www.castleton.edu/soundings/
Riveting..energizing..exhuberant! Founded in 1973, San Jose Taiko continues to inspire audiences with the power and beauty of Japanese Taiko, an instrument that embodies the spiritual essence and heartbeat of Japan and its people. A Soundings Event!
Thursday, April 29
San Jose Taiko
7 p.m.
Casella Theater
Adults $10, Sr./students $7, child $5

San_Jose_Taiko . Last modified Jul 09, 2010 12:14 p.m.
---