Fukuhara Photo Art Exhibition
Los Angeles
120 Judge John Aiso Street
Los Angeles, California, 90012
United States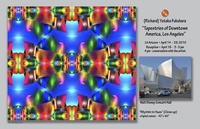 LA Artcore Gallery, Little Tokyo, is excited to announce "Tapestries of Downtowns America, Los Angeles" exhibition by artist-photographer Richard Yutaka Fukuhara from April 14 through April 29, 2010. A public reception is scheduled on April 18 from 3 to 5 p.m.
"Tapestries" is a series of images that transforms downtowns into a kaleidoscope of colors, textures, and forms. Using a palette of historical structures, modern skyscrapers, fire escapes, street lamps, and archways, "Tapestries" stimulate the senses with stunning mosaics representing everyday life in multicultural Los Angeles.

ricardo . Last modified Jul 09, 2010 12:14 p.m.
---