Japanese Hospital: Caring for the Pre-War Nikkei Community
Japanese American National Museum
369 E First St
Los Angeles, California, 90012
United States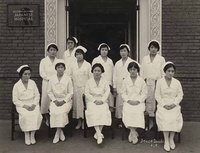 Attachments
For the early Issei immigrants, access to medical care was limited. Five Issei doctors sued the State of California after being denied papers of incorporation to build a hospital. Jordan vs. Tashiro was finally won in the U.S. Supreme Court in 1928. Japanese Hospital opened in Boyle Heights in 1929.
PROGRAM
• Keynote Speaker: Dr. Troy Kaji will talk about the history of the historic case and the establishment of the Japanese Hospital
• Moderator: Gwenn Jensen, author of Silent Scars of Healing Hands: Oral Histories of Japanese American Doctors in World War II Detention Camps
• Special Guest: Janice LaMoree, daughter of J. Marion Wright—the attorney who represented the doctors in the court decision—will speak about her father presenting the case in Washington D.C.
• Video clips from interviews sharing stories related to the community hospitals including Frances Kaji (daughter of Dr. Tashiro), Dr. Sakaye Shigekawa, Dr. Masako Kusayanagi Miura, Yoshiko Inose (daughter-in-law of Inosuke Inose, the president of the Southern California Japanese Hospital), and Margaret Kuroiwa (daughter of Dr. Daishiro Kuroiwa).
Arrive early to view slideshow of historic photographs from the hospitals and Little Tokyo community. A Japanese Hospitals Timeline will be distributed.
Light reception to follow.
Free with Museum admission. Reservations are recommended to rsvp@janm.org or 213.625.0414 at least 48 hours prior to the event.
This program is co-sponsored by the Little Tokyo Historical Society and the Japanese American National Museum. It is part of a series presented by Discover Nikkei, a project of the Japanese American National Museum made possible through the generous support of The Nippon Foundation.
(Photo: Gift of the Daishiro Kuroiwa Family (98.148.2) Japanese American National Museum)

editor . Last modified Jul 13, 2010 10:43 a.m.
---