The Summit: A Chronicle of Stones
Film Row Cinema, Columbia College Chicago
1104 S. Wabash Ave., 8th Floor
Chicago, Illinois, 60605
United States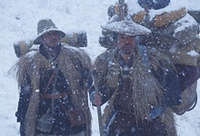 The Japan Information Center is excited to be bringing contemporary Japanese films to Chicago. Exploring the sometimes tenuous, sometimes unbreakable threads connecting people with nature, the movies cover a wide range of styles and approaches, from a studied documentary to a fantastical animation, with live action fiction somewhere in between. So journey to Columbia College's Film Row Cinema in the South Loop for a new look at nature.
We hope you enjoy <THE SUMMIT: A Chronicle of Stones>, which centers on the challenges of the wild Tsurugidake by courageous land surveyor Yoshitaro Sibazaki (Tadanobu Asano) and his men, as they race to complete the first map of Japan
Friday, March 5, doors open at 6:00 PM, screening begins at 6:30 PM
For more information, including film synopses and pictures, go here
Also, it's FREE!

intrepidmouse . Last modified Jul 09, 2010 12:14 p.m.
---