SHINSENGUMI-ASSASSINS OF HONOR
Midwest Buddhist Temple
435 West Menomonee
Chicago, Illinois
United States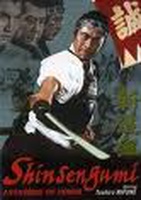 Saturday at the Japanese Cinema
Saturday January 23, 2010 1:00 PM to 3:00 PM Social Hall

Anything with Toshiro Mifune can't be bad :-) PLUS it's FREE (donations accepted for snack assortment/sodas)
MBT Studies in Japanese Culture
Film: SHINSENGUMI-ASSASSINS OF HONOR-WITH ENGLISH SUBTITLES
Near the end of the 19th century, as the balance of power shifts from the Shogunate towards the Emperor, Japan restlessly awaits the dawning of a new age. But not all are content.
The Shinsengumi, a small army of samurai, farmers and peasants, band together to do battle against the tide of history. Their leader Isami Kondo, (Toshiro Mifune) is a man who rises from farmer to fighter to head the fierce Shinsengumi brigade. Using a stern hand and a heart of gold, he rallies his men in defense of the tottering Shogunate.
But bloodshed and treachery are everywhere.
Take part in the after film discussion of this film's relevance to Japanese culture.
NO Admission fee. Popcorn and snacks will be served. Please RSVP (312) 943-7801 so we'll know how many chairs to setup.

intrepidmouse . Last modified Nov 06, 2010 10:04 a.m.
---